Main Content
Antonio Martinez

,

Head of Undergraduate Studies, Associate Professor
Photography/Intermedia Arts
Antonio Jacob Martinez, M.F.A. (b.1979), is a fine art photographer who currently teaches as an Associate Professor of Photography/Intermedia Arts at Southern Illinois University. Antonio defines himself as a traditional and digital image-maker whose work combines old and new imaging technologies.
Antonio studied at Creighton University in Omaha, NE from 1997-2001. Upon earning a BFA in painting and becoming more interested in photography, Antonio continued his arts practice studies in graduate school at East Carolina University, in which he earned an MFA in photography. Antonio has been featured in PDN magazine, Blue Sky Gallery, SFMOMA and several international film and video festivals for his contribution in the experimental moving image, notably, his project called Near the Egress.

His more recent project, How to Hug and Other Sublimations of Men is an expressionistic interpretation of the modern sport of mixed martial arts, with emphasis on the conflation of violence and intimacy between two men whom compete to win the respect and praise of spectators (friends, family, and strangers). Between 2008-2010, he trained and participated in the popular sport of MMA in Southern Illinois as a way to understand why male amateur athletes, young and old, would follow a desire to participate in such a violent sport during their leisure time. The initial beginning of this series was received positively at a 2012 national SPE conference in San Francisco. With greater refinement and discovery of a breakthrough post-production process, the work's success culminated to be recognized in the prestigious KlompChing Gallery in Brooklyn in 2016 and most recently this past summer in Seattle at Gallery One of One.

Antonio is no stranger to immersing himself in the process, let alone the subject matter. He is currently learning the craft of quilt making to produce a series of symbolic-filled portraits of anonymous sperm and egg donors and donor-conceived adult children called Anonymous Parents.He has already produced one portrait and mtDNA quilt which was part of a group exhibition at the KANEKO center in Omaha this past summer. This is undoubtedly a long-term project, so when Antonio isn't preoccupied coordinating various photography program initiatives, advising student organizations, establishing groundwork for the Southern Illinois Film Commission, he tinkers and experiments with combining and merging various photographic techniques and processes. His latest experiments involve combining the practice of wet-plate collodion and color film photography, and in addition, bridging the use of archived imagery, with cyanotypes, glycerin transfers, and AI imaging.

His work can be viewed at antoniojacobmartinez.com.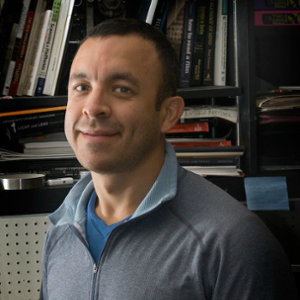 Comm. 1111
618-453-2294
antoniam@siu.edu
Personal Website
Curriculum Vitae