Main Content
Najjar Abdul-Musawwir

,

Professor
Drawing, Painting, Core Curriculum
Najjar Abdul-Musawwir was born October 25th, 1958, in Chicago, Illinois. He is an internationally-acknowledged artist who has exhibited throughout the United States, Africa, Asia and Europe. He currently works as a Professor of studio arts and art history in both the School of Art and Design and Africana Studies program at Southern Illinois University Carbondale.
Professional Career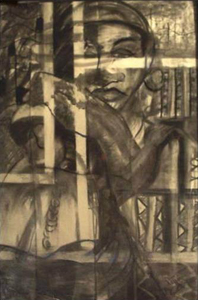 He has received distinguished and prestigious acknowledgments. Among these are: first Artist-n-Residency/exhibition for the N'Namdi Center for Contemporary Art in Detroit, invitational Artist-n-Residency/exhibition by the Tuanku Fauziah Museum and Gallery in Malaysia, commissioned to create a piece for the Visions of Our 44th President traveling exhibition hosted by Charles H. Wright Museum in Detroit, Rickert-Ziebold Trust Award, Judge William Holmes Cook Professorship Endowment, and an invitation by the MacArthur Foundation in Chicago as a member of an Illinois artists' consulting team.
Najjar's work illustrates culture, faith, and history through abstract language. He uses different materials as a metaphor for the human experience; and thus abstract materials to discuss our abstract existence. His paintings are harmonious visions of contrasting colors, flowing liquefaction, and symbolic transparency. Najjar is known for using burlap sacks/material in his paintings, and considers it a profound and puissant symbol. The idea of burlap exploiting the surface, which speaks to the power of harvesting the spiritual experiences of the human-will – past, present, and beyond the 21st century.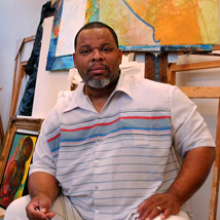 Allyn Building 5A
618-453-3019
mekka@siu.edu 
Curriculum Vitae
Najjar's Philosophical Thoughts: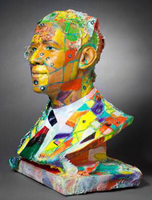 Research – Look for what is not evident and see possibilities.
Service – Helping others is without doubt the helping of thy self.
Teaching – Educate others perchance they understand the message better than me: they become the teacher and me the student.
SALON 53 2-5-Oh! Art Exhibition Feb 22, 2014
BLAC Detroit | Visions of our 44th President