Main Content
The Sculpture program strength lies in its interdisciplinary study where one can experiment and excel within either a non-material centric or varying discipline specific approach to the sculptural creative process. We offer both a BFA and MFA in a variety of skills sets on core issues relevant to object making and conceptual frameworks in metal and wood fabrication, ferrous and non-ferrous metal casting, cold casting and mixed media.

The curriculum combines both traditional and contemporary ideologies in design, craft and technology. You will participate in a diverse and highly dynamic work setting with traditional tools and materials, while also receiving exposure to a variety of techniques and styles within multidisciplinary approach to spatial, installation, intermedia and transmedia art. Students will have opportunities for personal studio space and 24-hour access to excellent equipment and facilities.

The multi-media aspects give an additional valuable layer of expertise as a professional practitioner. You will leave the program equipped with distinctive goals to pursue a range of opportunities in varying innovative and creative arenas.
Program Information
Our inter-disciplinary sculpture curriculum works congruently with other art and design specializations to give you a well-rounded foundation for your future career. The professional program provides you with a flexible structure, giving you freedom to experiment with what works best for you.
Prior to entry into the sculpture program, students must complete the required foundation studies: beginning coursework in art history, drawing and two- and three-dimensional design.
In addition, students must have successfully completed a portfolio review of work from previous art studies, from SIU or another institution.
Bachelors of Fine Arts (Sculpture)
The undergraduate major in sculpture can be accomplished by fulfilling the requirements for the Bachelor of Fine Arts (BFA) degree.
Total Degree Requirements: 120 credit hours
University Core Curriculum: 39
Foundation Requirements: 9 credit hours
Major Requirements: 51 credit hours
Art and Design History Electives: 6 credit hours
Studio Art Electives: 15 credit hours
To be admitted to the BFA degree program, students must complete a portfolio review.
Students taking 300-level coursework present a selection of studio work at the BFA Portfolio Review.

Check out the undergraduate Curricular Guide, which helps you outline what courses you would want to take each semester for all four years. View all related undergraduate courses.
---
Masters of Fine Arts (Sculpture)
Our MFA program offers a comprehensive experience that prepares students as professional artists and educators. Students must be able to demonstrate a high level of ability in their area of study, present a professional-level body of original artwork, which reflects their ability to investigate concepts, issues and processes relevant to their studio practice, and be able to discuss this work critically.
A minimum of 60 credit hours is required for the Master of Fine Arts degree in art. A program will be planned in consultation with the professor in that area.
Total Degree Requirements: 60 credit hours
Primary Studio emphasis: 27 credit hours
Art History or related subjects: 9 credit hours
Studio Electives: 12 credit hours
Thesis or terminal project work: 6 credit hours
Other Electives: 6 credit hours
View catalog requirements. View all related masters courses.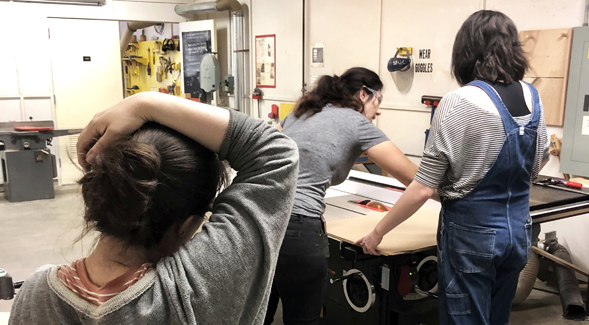 Facilities
Our facilities are housed in two locations, the Glove Factory and Foundry Complex. Students have 24-hour access to excellent labs and facilities with individual studio and exhibition spaces. We house an extensive collection of handheld wood and metal fabrications tools. All labs and personal studios are equipped with pneumatic and electrical outlets.
The Glove Factory provides a classroom, digital rendering and CNC rooms, woodworking and metal fabrication labs, large tool storage area and seven studio spaces. In addition to the sculpture facilities, there are classrooms and studios for drawing, painting, foundations and home to the Surplus Gallery.
The Foundry complex allows you to work with ferrous and non-ferrous metal-casting techniques, metal fabrication, as well as, working congruently with distinguished faculty and visiting artists. The Foundry is equipped with in and outdoor overhead lifts, woodshop, wax working areas and four studio spaces. There is generous outdoor space for fabrication and installations of artworks. Also included at this site is a ceramic shell room equipped with a state-of-the-art air scrubbing system.
The renovated Surplus and Vergette Galleries offers a combined footprint of 4, 800 sq. ft. for exhibitions that include BFA and MFA thesis shows, RickertZiebold Award Competition, annual fundraising events such as, "Art Over Easy"; Critical Forum's "Love at the Glove" and juried exhibitions. The galleries are also used as a flex-spaces for critiques and professional development.
Funding
Many of our students receive financial support from our art and design specific scholarships and fellowships. We offer academic scholarship opportunities for incoming students with exceptional ACT scores and/or rank top 10% of high school class, talent scholarships based on portfolio review, research scholarships to offset material costs and much more.
Additionally, nearly all of our MFA students receive funding through assistantships, fellowships, grants, federal work-study programs, special awards and scholarships. Information on assistantships is specific to each area of study, while the tuition scholarship program is available from the Graduate School office. Information regarding the federal work-study program and loans is available by contacting the SIUC Financial Aid Office.
The CAA (College Art Association) awards five Professional Development Fellowships in the Visual Arts of $5,000 each to outstanding students who will receive MFA degrees. Eligibility requirements and application guidelines will be available on the CAA website. These are annual awards with deadlines typically in early October.

Special Equipment
We believe hands-on experience is the best way to grow as an artist, sculptor, teacher and designer. Our students learn, create and collaborate in workspaces equipped with professional-grade tools:
Glove Factory
Large Mixed-media Lab
7 Large Individual Studios
Wood Shop
2 drill presses
24" planer
8" Delta jointer
2 band saws
Disc & belt sander
Powermatic wood lathe
Router table
Sliding miter saw
10" SawStop
Jig saw
Jet spindle sander
Panel saw
Mortise & Tenon equipment
Metal Fabrication Area
6' box brake
Hossfeld pipe bender
6' slip roll
2 MIG welders
Hypertherm 600 plasma cutter
Oxy-Acetylene rig
Horizontal bandsaw
Chop saw
7 bench grinders
CNC Lab
4' × 8' Shopbot
Digital rendering room
3 Mac pros, 1 iMac
Foundry Complex
2 Buildings = 7,200 sq/ft
5 Large individual studios
Wood shop
10" tablesaw
12" miter saw
20" band saw
Disc & belt sander
Drill press
Indoor & outdoor hoists
1/3 acre outdoor work area
1/4 acre sculpture yard
Metal fabrication
2 MIG welders
TIG & stick welders
Hypertherm plasma cutter
Oxy-Acetylene rig
Foundry
oxy-acet
3 non-ferrous furnaces
Casting pit
2 Sand mullers
Air scrubbing system
Cabinet blaster
Large pot blaster
Burnout furnace
Alpine kiln
2 Iron Cupolas
Fork lift
Wax working lab
Ceramic shell room
Slurry tank
2 stucco beds
Projects and Competitions
Nearly everything about SIU's sculpture program includes the direct involvement of our students. From woodwork and installation to multi-media creation and computer design, you will leave our program with a broad base of relevant experience.
Students also have many chances to work alongside visiting artists and distinguished faculty on projects. Upon graduation, students must complete a thesis project that demonstrates their skills and acquired knowledge.
---
Student Organizations
Students can join a variety of the interdisciplinary student organizations to broaden their experiences and artistic views. In addition to more general groups, sculpture students can join the Critical Forum (C4) organization, a group specially-focused on bringing exhibitions and visiting artists to the area as well as forging on with innovating approaches to their creative practices.
Members of this group often travel to conferences and competitions, while also hosting local exhibitions and shows. For more information, contact Alex Lopez at alxlpz@siu.edu.
Careers
Students in sculpture gain the foundational skills to succeed in a host of different positions within the art world. Our comprehensive background gives SIU alumni an edge for entering residencies, graduate programs, community directorships, studios and so much more. Some of these career paths include:
Design lab director
Studio artist
Commercial gallery manager
Exhibition designer
Art instructor
Gallery/Museum consultant
Community arts director
Art therapist
Design assistant