Main Content
Our diverse metalsmithing program emphasizes the development of hands-on skills and practical training. Available in both a BFA and MFA, our individualized program will prepare you with technical skills, aesthetic values and creative thinking to excel in your field.
The interdisciplinary program has developed connections in Europe, the Pacific Rim and Mexico, and it attracts students from all over the world. Students learn a variety of artistic practices from jewelry making and fine metalsmithing, to the more unique elements of blacksmithing.
Graduates of the program have gone on to highly successful careers in academia and museum work, as well as that of a self-sustaining independent artist. We offer the only MFA blacksmithing program in the nation.
Bachelor of Fine Arts (Metalsmithing)
The undergraduate major in metalsmithing can be accomplished by fulfilling the requirements for the Bachelor of Fine Arts (BFA) degree.
Total Degree Requirements: 120 credit hours
University Core Curriculum: 39
Foundation Requirements: 9 credit hours
Major Requirements: 51 credit hours
Art and Design History Electives: 6 credit hours
Studio Art Electives: 15 credit hours

Check out the undergraduate Curricular Guide, which helps you outline what courses you would want to take each semester for all four years. View all related undergraduate courses.
Master of Fine Arts (Blacksmithing)
Master of Fine Arts (Small Metals)
Our MFA program offers a comprehensive experience that prepares students as professional artists and art instructors. Students must be able to demonstrate a high level of ability in their area of study, present a professional-level body of original artwork, which reflects their ability to investigate concepts, issues and processes relevant to their studio practice, and be able to discuss this work critically.
A minimum of 60 credit hours is required for the Master of Fine Arts degree in art.
Total Degree Requirements: 60 credit hours
Primary Studio emphasis: 27 credit hours
Art History or related subjects: 9 credit hours
Studio Electives: 12 credit hours
Thesis or terminal project work: 6 credit hours
Other Electives: 6 credit hours
View all related masters courses.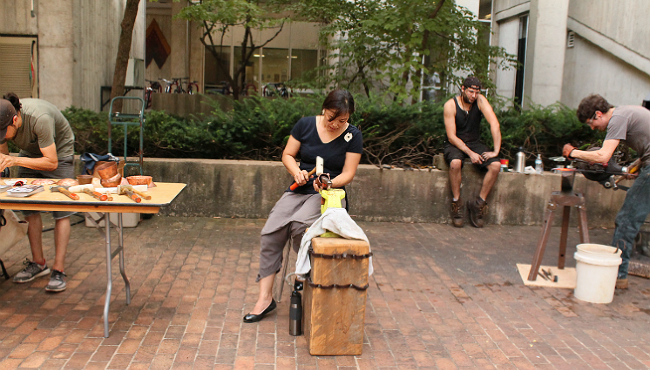 Contact Information
Rick Smith
Metalsmithing/Blacksmithing
Professor
Pulliam Design Wing 66
555 Clocktower Dr.
Carbondale, IL 62901
Phone: 618-453-4315
rshotforged@gmail.com
Sun Kyoung Kim
Metalsmithing/Jewelry
Associate Professor
Pulliam Ind. Wing 16C
475 Clocktower Dr.
Carbondale, IL 62901
Phone: 618-453-4315
sunkim@siu.edu
Faculty
Our world-renowned faculty have the expertise and experience to guide you towards your own professional career path.
SIU Professor Emeritus L. Brent Kington is credited with reintroducing blacksmithing as an art form to the United States. His efforts brought our blacksmithing program to prominence over his 35-year teaching career. In 1978, SIU professor emeritus Richard Mawdsley built the fine metals program and attracted students from across the world. Meet our faculty.
---
Student organizations (RSOs)
In addition to our excellent academic life, we also give you opportunities to grow your experience and network with our student organizations.

The Metals Student Organization, SIMS, is an active student group that hosts an annual conference and fine art auction fundraiser. The group collaborates on projects and supports on another in a variety of academic and professional areas.
Careers
Students in metalsmithing have the foundational skills to work in a variety of positions in the art world. With a background in blacksmithing, jewelry making and metalsmithing, many of our graduates have moved on to residencies, graduate programs, community art directors and so much more. Some of the popular career options include:
Studio artist
Metals technician
Jewelry product developer
Director of jewelry
Gallery professional
Jewelry specialist
Metals caster
Facilities
Our students have access to excellent facilities boasting individual studio and exhibition space. The historic Pulliam Industrial wing is home to a spacious blacksmithing studio, along with studio space for jewelry making and metal casting.
Additionally, our 4,000 sq. ft. Surplus Gallery includes BFA and MFA thesis exhibitions, the "RickertZiebold Exhibition," several student-organized juried exhibitions and annual fundraising events, such as "Art Over Easy" and "Love at the Glove." View our facilities.
Special Equipment
Our students have access to a variety of equipment and workspace to learn, create and collaborate. We believe hands-on experience is the best way for you to grow as an artist and designer.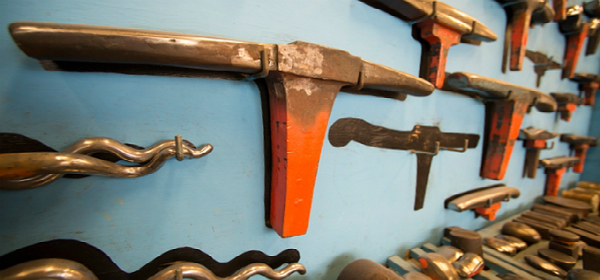 Coal forges
Gas forges
Power hammers
Ironworker
Blast cabinet
Lathe
Milling machine
English wheel
Hydraulic press
Bridge crane
Undergraduate Funding
Many of our students receive financial support from the many art and design specific scholarships and fellowships.
We also offer academic scholarship opportunities for incoming students with exceptional ACT scores and/or rank top 10% of high school class, talent scholarships based on portfolio review, research aid to offset material costs and much more.
Graduate Funding
Additionally, nearly all of our MFA students receive funding through assistantships, fellowships, grants, federal work-study programs, special awards and scholarships. Information on assistantships is specific to each area of study, while the tuition scholarship program is available from the Graduate School office. Information regarding the federal work-study program and loans is available by contacting the SIU Financial Aid Office.
The CAA (College Art Association) awards
five Professional Development Fellowships in the Visual Arts
of $5,000 each to outstanding students who will receive MFA degrees. Eligibility requirements and application guidelines will be available on the CAA website. These are annual awards with deadlines typically in early October.
School of Art and Design | College of Arts and Media | 618-453-4315 |