Main Content
As a Student studying Ceramics at SIU you will develop strong skills and technical knowledge for working in clay. Classes cover topics from hand building, wheel throwing, mold making and glazing to history, theory and ceramic chemistry.

Our program promotes a diverse approach to making including designing and creating utilitarian pottery, figurative to abstract sculpture and mixed media installation. You will find our studio courses are designed to address contemporary issues while promoting an atmosphere that is balanced between conceptual development and material exploration. We offer both a BFA and an MFA.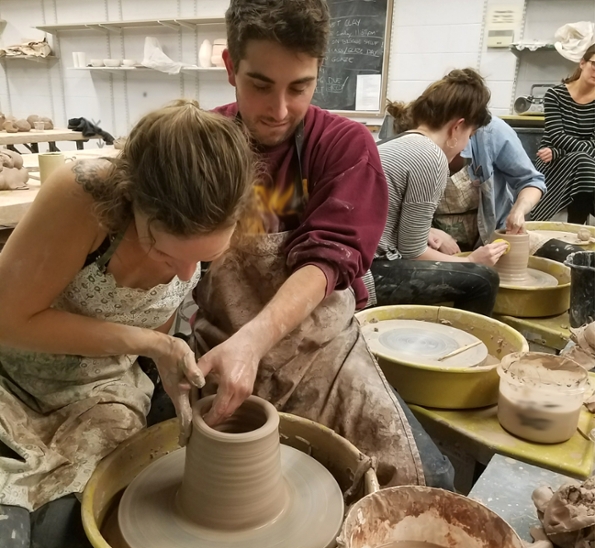 Bachelor of Fine Arts (Ceramics)
The requirements for the Bachelor of Fine Arts (BFA) degree provide a blend of inter-disciplinary study and ceramics-focused coursework. The degree program offers a flexible structure designed to meet your individual curricular needs.
Total Degree Requirements: 120 credit hours
Core Curriculum: 39 credit hours
Foundation Requirements: 9 credit hours
Major Requirements: 51 credit hours
Art and Design History Electives: 6 credit hours
Studio Art Electives: 15 credit hours

Check out the undergraduate Curricular Guide which helps you outline what courses you would want to take each semester for all four years. View all related undergraduate courses.
Masters of Fine Arts (Ceramics)
The ceramic MFA is a 60-credit hour program culminating with a thesis exhibition. MFA candidates are encouraged to explore materials and processes and engage in critical dialogue.

Through the development of a personal research program students explore ideas, materials and processes to define their own unique vision.
Total Degree Requirements: 60 credit hours
Primary studio emphasis: 27 credit hours
Art history or related subjects: 9 credit hours
Thesis or terminal project work: 6 credit hours
Elective study: 18 credit hours, 12 of which must be in studio disciplines
Remaining hours may be elected from any area within the School of Art and Design, or the University at large. View our Master's Degree Program and all related master's courses. 
Careers
Graduates of our ceramics program have gone on to graduate schools and artist residencies/internships, and have found careers as studio artists, teachers, curators, ceramic technicians and more.
Ultimately, studying ceramics leads students to think creatively, to be inventive when solving problems and to express themselves imaginatively; these are skills that are essential to every field.
Facilities
As a student you will have access to a wide variety of excellent resources to design and create your work. The ceramics area has fully stocked and well-ventilated glaze lab and clay mixing rooms, indoor and outdoor kiln areas and advanced students and graduate students have dedicated studio space and regular opportunities to exhibit their work.
View our facilities.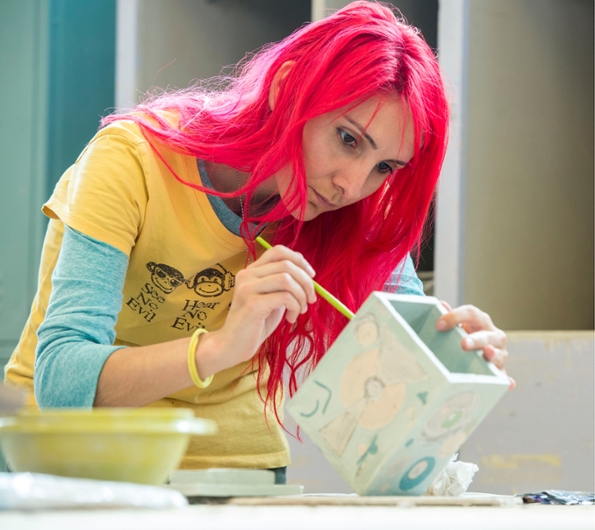 Special Equipment
A 3-D ceramic slip printer
A Slip-O-Matic mixer
A curio vinyl cutter
3D Filament Printers
Ceramic classroom with Brent pottery wheels, a Bailey slab roller and a Bailey Extruder
Glaze lab with a blunger mixer, a spray booth, and a ball mill
A dedicated ceramic critique/gallery space
Photo documenting equipment
Clay mixing room with 2 Soldner mixers and a Peter Pugger mixer
Indoor kiln room with 3 down-draft Bailey Kilns, a down-draft Kiln Master car kiln and 5 electric kiln
Outdoor kilns include a catenary arch woodkiln, a soda kiln and a raku kiln
Undergraduate Funding
Many of our students receive financial support from the many art and design specific scholarships and fellowships. We offer academic scholarship opportunities for incoming students with exceptional ACT scores and/or ranking among the top 10% of their high school class, talent scholarships based on portfolio review, research scholarships to offset material costs, and much more.