Main Content
Our printmaking program encourages experimentation, hybrid processes, and cross-disciplinary approaches, engaging print within the larger arena of creative research and production. Study offerings include etching, lithography, screenprinting, relief, monoprint, collagraph, papermaking, and digital print techniques.
This range of curriculum will allow you to gain skills and mastery of traditional and contemporary approaches in the field of printmaking, equipping you with the tools necessary for a successful professional art practice and knowledge on how to direct it. We offer both BFA and MFA degrees.
Program Information

The printmaking curriculum incorporates a broad range of traditional and digital techniques, and students are encouraged to understand printmaking in the broadest terms possible. 
Prior to entry into the BFA program, undergraduate students must complete the required foundation studies: beginning coursework in art history, drawing and two- and three-dimensional design. In addition, students must have successfully completed a portfolio review of work from previous art studies, from either SIU or another institution.
Our printmaking philosophy
Printmaking is an intersecting point where the fields of art and design converge, where other disciplines of visual art may be investigated in tandem. It is where the past, present, and future of visual expression are simultaneously at play. Printmaking is rich with traditions and histories that are intertwined with the development of communication and culture. These same threads remain woven into the mesh of contemporary society and printmaking is a medium ripe with possibilities and potential for innovation within contemporary art.
Bachelors of Fine Arts (Printmaking)
The undergraduate major can be accomplished by fulfilling the requirements for the Bachelor of Fine Arts (BFA) degree.
Total Degree Requirements: 120 credit hours
University Core Curriculum: 39
Foundation Requirements: 9 credit hours
Major Requirements: 54 credit hours
Art and Design History Electives: 6 credit hours
Studio Art Electives: 12 credit hours
To be admitted to the BFA degree program, students must complete a portfolio review.
Students taking 300-level coursework will present a selection of studio work at the BFA Portfolio Review.

Check out the undergraduate Curricular Guide, which helps you outline what courses you would want to take each semester for all four years. View all related undergraduate courses.
Masters of Fine Arts (Printmaking)
Our MFA program offers a comprehensive experience that prepares students as professional artists and art instructors. Students must be able to demonstrate a high level of ability in their area of study, present a professional-level body of original artwork, which reflects their ability to investigate concepts, issues and processes relevant to their studio practice, and be able to discuss this work critically.
A minimum of 60 credit hours is required for the Master of Fine Arts degree in art.
Total Degree Requirements: 60 credit hours
Primary Studio emphasis: 27 credit hours
Art History or related subjects: 9 credit hours
Studio Electives: 12 credit hours
Thesis or terminal project work: 6 credit hours
Other Electives: 6 credit hours
View related masters courses.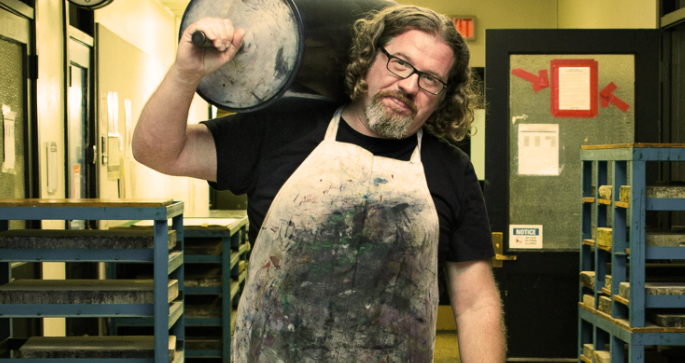 Contact Information
Travis Janssen
Head of Printmaking
Glove 114
432-498 S. Washington St.
Carbondale, IL 62901
Phone: 618-453-5274
travisj@siu.edu

Carol Westerman-Jones
Academic Adviser
Communications Building
Room 1121G
1100 Lincoln Dr
Carbondale, IL 62901
Phone: 573-846-0819
carolw@siu.edu
Special Equipment
We believe hands-on experience is the best way for you to grow as an artist. Our students have access to a variety of equipment and workspaces to learn, create and collaborate.
60" x 40" Griffin etching press
60" x 30" Sturges etching press
80" x 40" Takach litho press
60" x 32" P-K litho press
88" x 73" AWT Seri-Glide screen printing press
Vandercook Universal 1 letterpress
48" x 36" AmerGraph exposure unit
44"-wide Canon imagePROGRAF Pro 4100 inkjet
Two-pound Lee Scott McDonald paper beater
Large Inventory of litho stones
Wood and metal type collections
Facilities
Our students have 24-hour access to excellent facilities, with individual studio and exhibition spaces. The second floor of the Allyn Building is home to SIU's extensive printmaking studios. You'll be able to work alongside distinguished faculty and visiting artists. And you'll have access to the Vergette Gallery, over 400 square feet of naturally lit gallery space for short-term exhibitions.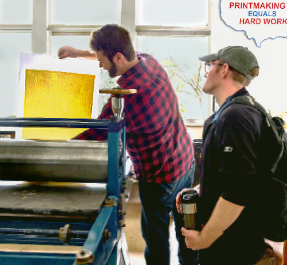 The Glove Factory provides studio space for drawing, sculpture, painting and foundations as well as for our printmaking students. It's also home to the Surplus Gallery, where exhibitions include BFA and MFA thesis displays, the Rickert-Ziebold Exhibition, student-organized group and juried shows, and annual fundraising events, such as Art Over Easy and Love at the Glove.
Southern Illinois Printworks, a registered student organization, also organizes The Four Rivers Print Biennial, a national juried exhibition which brings excellent prints from across to the United States to our community.
Careers
Students in 2D programs have the foundational skills to work in a variety of positions in the art world. With a background in printmaking, many of our graduates have moved on to residencies, academia, further study opportunities, and so much more. Some popular career options include:
Studio artist
Art teaching/academia
Artist-in-residence
Production printer
Studio manager
Gallery/museum consultant
Community arts director
Graphic designer
Student Organizations
Students can join a variety of the
interdisciplinary student organizations
to broaden their experiences and artistic views. In addition to the general groups, printmaking program students can join the Southern Illinois Printworks organization, a group focused on developing printmakers. Members often travel to national and regional conferences while also hosting exhibitions on campus.
Undergraduate Funding
Many of our undergraduate students receive financial support from our art and design specific scholarships and fellowships.
We offer academic scholarship opportunities for incoming students with exceptional ACT scores and/or top 10% ranking in high school class, talent awards based on portfolio review, research funds to offset material costs and much more.
School of Art and Design | College of Arts and Media | 618-453-4315 |