Main Content
Art, Architecture, and Design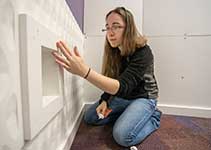 Turn your creativity into real-world application. In Architectural Studies we have dedicated 24-hour studios for all upper-level students and our faculty are with you all along the way. We offer a Bachelors in Architectural Studies and a Master of Architecture which includes an online and IPAL option. Your Master of Architecture degree can be completed in as little as 15 months of study.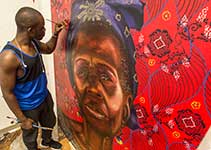 You'll learn from accomplished artists in our faculty while you build your portfolio in your chosen area. You'll have your own studio space, and access to materials, equipment, and gallery space. We offer a Bachelor of Fine Arts, a Bachelor of Arts, Master of Fine Arts, Master of Arts, with specializations and concentrations in art, design, art history and art education.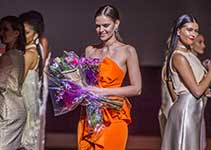 Our fast-paced program specializations prepare you for careers in fashion design, merchandising or styling. You'll use our sewing labs, styling lab, fashion design software and camera library to help build live fashion show senior showcase. Earn a Bachelor of Science degree in your choice of specialization.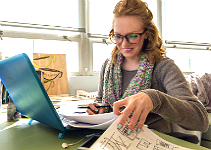 Our Bachelor of Science degree is a nationally-recognized pioneer of interior design studies. As a student, you'll channel skills collaborating with faculty, local firms and community leaders on real design ventures. As a Saluki, you'll network through elite memberships, competitions and brass-ring alumni support. As a professional, you'll project your unique vision onto exciting new spaces.
Below you can find the program you are interested in and the degrees, minors, and online options offered for that program. You will see some programs have specializations (for undergraduate programs)/ concentrations (for graduate programs) listed. These are focused areas of study.
Program
Bachelor's
Master's
Doctoral
Minor
Online
Architectural Studies
BS
MARCH
 

Construction Management and Operations

MARCH
Art
BA, BFA
 MFA
 

Art
Art Education
Art History
Industrial Design

 
Specializations/Concentrations:
Art Education
BFA
 
 
 
 
Art History
BA
 
 
 
Ceramics
MFA
 
 
 
Communication Design
BFA
 
 
 
Design
MFA
Drawing
MFA
 
 
 
General Studio
BA
 
 
 
Glass
MFA
 
 
 
Industrial Design
BFA
 
 
 
Metalsmithing
MFA
 
 
 
Painting
MFA
 
 
 
Photography
BA
Printmaking
MFA
 
 
 
Sculpture
MFA
 
 
 
Fashion Studies
BS
 
 
 
 
Specializations/Concentrations:
Fashion Design
BS
 
 
 
 
Fashion Merchandising
BS
 
 
 
 
Fashion Styling
BS
 
 
 
 
Interior Design
BS