Main Content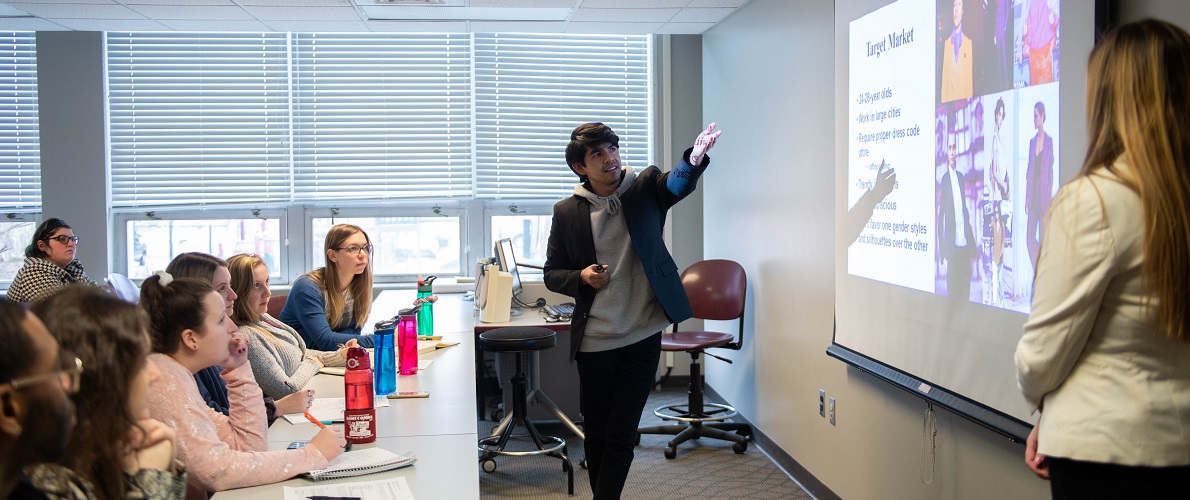 The fashion merchandising specialization offers an in-depth study of the process of planning, negotiating, acquiring, selling and evaluating merchandise throughout the distribution channel. It is designed for students interested in product sales careers at the wholesale or retail level.

You'll learn knowledge of merchandise, sales techniques, and trends in the marketplace and customer service. This specialization in fashion merchandise assumes a global perspective and is complemented by business courses to allow for career flexibility.
Program Information
The fashion merchandising specialization curriculum offers a focused course of study for those who intend to pursue a career in fashion merchandising.
All courses include the analytical skills necessary to interpret sales data and consumer behaviors. Fashion merchandising students are additionally required to gain on-the-job work experience for course credit.
If you choose to specialize in Fashion Merchandising, you will study fashion merchandising, personnel issues, and fashion mathematics. Professionally-related courses include marketing and management.
The Fashion Merchandising curriculum requires business coursework as well as the Fashion Studies core and specialized classes, which ultimately leads to a minor in marketing. Electives may include additional marketing and management, journalism, or other business related classes. 
In addition to knowledge of the fashion industry, students are encouraged to develop a background in related skills such as art, marketing, or management. Because fashion production takes place worldwide, developing and/or enhancing writing and speaking skills in a second language such as Spanish, French, or Chinese is also encouraged.
Contact Information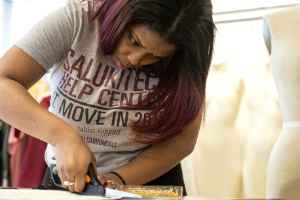 Dr. Laura Kidd,
Program Director
311D Quigley Hall
875 S. Normal Ave.
Carbondale, IL 62901
Ph: 618-453-1981
lkidd@siu.edu
Kijoung Na,
Academic Advisor
1121 Communication Building
1100 Lincoln Drive
Carbondale, IL 62901
Ph: 618-453-1240
kijoung.na@siu.edu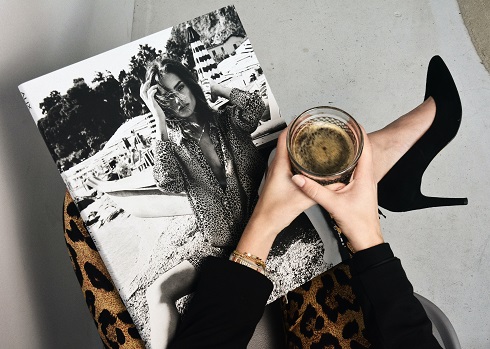 Helpful Info
The 48 credit specialization requirements are a subset of the overall Bachelor of Science Degree requirements.
---

Check out the Curricular Guide (PDF) which helps you outline what courses you would want to take each semester for all four years.
View all related undergraduate courses»
---
Here is a list of Merchandising Course Electives (PDF) to help you choose your electives.
Careers
Graduates of the fashion merchandising specialization are prepared for positions in fashion retailing organizations as buyers, managers, visual merchandisers, fashion consultants, sales representatives, and related areas. In addition to fashion design and merchandising, merchandising students have experience in marketing management, promotion, and personnel management and supervision.
Fashion merchandising professionals operate at the warehouse or retail level in the fashion industry. Career placement is very high and is complemented by the work experience component of the program. Careers in fashion merchandising include, but are not limited to, account representative, personal shopper, wholesale buyer, retail buyer, independent wholesaler, sales manager, visual merchandiser, inventory planning and distribution analyst, manufacturer's representative, customer service management specialist, retail sales and sales support manager, and showroom coordinator.
Student Organizations (RSOs)
In addition to outstanding academics, SIU fosters an environment that provides opportunities for student leadership. The Fashion Club is active in the Carbondale community.
The Fashion Club has produced fashion shows in coordination with Macy's at the University Mall in Carbondale, as well as created window displays for various mall merchants. Since the organization is student-run, you decide the projects. Check out list of all RSOs.