Main Content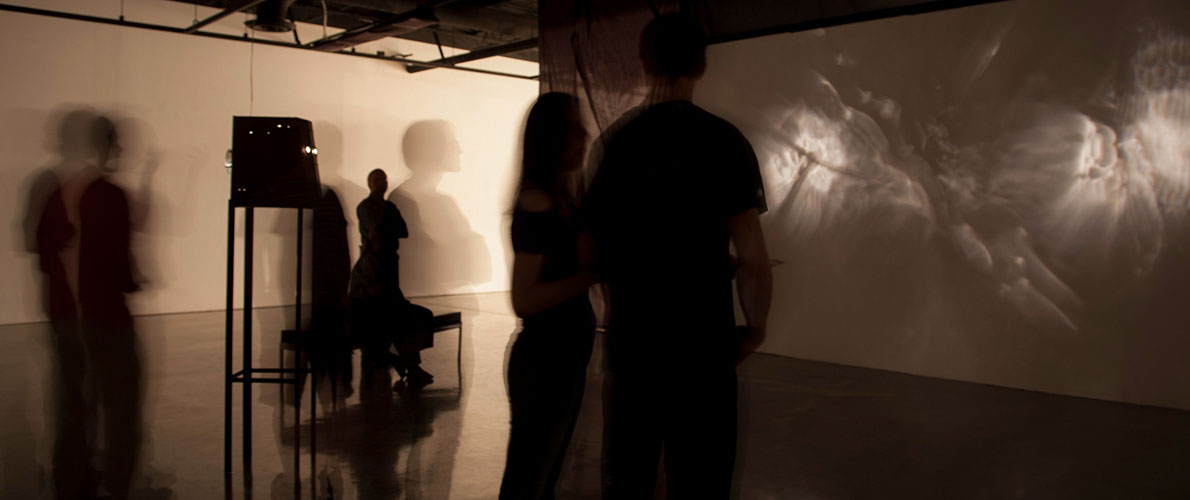 Our MFA programs are structured to provide you with exposure to a broad range of creative approaches in nine areas of study: Blacksmithing, Ceramics, Design, Drawing, Glass, Painting, Printmaking, Sculpture and Small Metals. We promote a diverse approach to making with courses designed to address contemporary issues while promoting an atmosphere balanced between conceptual development and material exploration. You will find they are well supported in cross-discipline exploration as they strive to develop their best work.

With 24/7 studio access, extensive facilities, exhibition spaces and multiple funding opportunities, you will have everything you need to excel. Whether looking for a career as a studio artist, a designer, an academic, a curator, a critic or are interested in creating a business, it all begins here.
Master of Fine Arts
The School of Art and Design is an accredited three-year, 60-credit hour Master of Fine Arts degree. While attending SIU, you will have access to excellent resources to facilitate their creative development, including an engaged faculty who are professional artists, designers, and scholars, extensively equipped facilities, a variety of funding opportunities, dedicated studio spaces and regular opportunities to exhibit their work in multiple exhibition spaces. We maintain a dynamic, creative environment in which emerging artists and designers develop through access to the opportunities inherent at a Carnegie Research University.
Our masters programs are further enhanced though our visiting artist program. This program connects you with artist, designers, and scholars though engaging events and lectures right here on campus. Some of our notable recent guests include Glenn Adamson, Shary Boyle, Lisa Bulawsky, Harlan W. Butt, Paul Catanese, Theaster Gates, Karla Hackenmiller, Ash Lester, Al Loving, Yoonmi Nam, Peter Plagens, Dario Robleto, Rui Sasaki, and Roger Shimomura
Graduate Certificate
In addition to the nine MFA program areas, we offer a Graduate Certificate in art history with options for concurrent enrollment. The certificate provides a valuable foundation for future career development.
The certificate program requires 18 credit hours of graduate level art history coursework. View certificate information.
Program Information
The graduate degree in studio can be accomplished by fulfilling the requirements for the Masters of Fine Arts degree.
Total degree requirements: 60 credit hours
Primary Studio emphasis: 27 credit hours
Art History or related subjects: 9 credit hours
Studio Electives (may be within area of emphasis): 12 credit hours
Thesis or terminal project work: 6 credit hours
Other Electives: The remaining 6 credit hours may be elected from any area within the School of Art & Design or from the University at large.
*30 of the 60 total credit hours must be at the 500 level.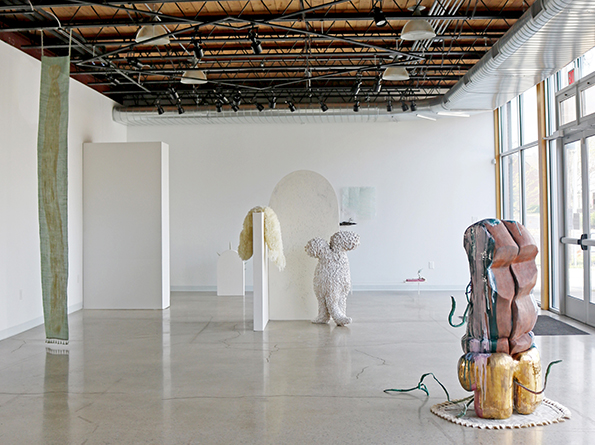 Travel and Other Opportunities
We offer several travel and study abroad options to enhance the graduate experience. Some of our international opportunities have included trips to Scotland, Germany, Ireland and the Steneby Institution of Craft and Design in Sweden. The Art History program also offers travel opportunities to visit Museums and Galleries with past trips to Washington D.C., St. Louis, Chicago and New York
As a graduate student, you will have access to a variety of competitions and exhibition opportunities around the nation. With our excellent network of corporate partners, museums, studios, universities, and craft schools you will have everything you need to launch into your career
Facilities
Turn your imagination into reality.
As an Art and Design graduate student, you will have access to the school's studio spaces, workshops, digital labs, and galleries. Highlights include the Brent Kington Smithy, the Foundry Complex, a glass hot shop, the S.A.M. Lab makers space, multiple woodshops, The 4,000 square foot Surplus Gallery and much more.
You are provided studios with 24/7 access, where they work in close contact with their peers and with our dedicated, accessible, nationally and internationally distinguished faculty. They also have access to up-to-date technology in computer labs, and the resources available at any major research university.
Funding
The School of Art and Design has a wide range of graduate assistantships available, these provide a full-tuition waiver and a monthly stipend. In addition, you may apply for university wide research fellowships, scholarships and grants.
Nearly all our graduate students receive funding through assistantships, fellowships, scholarships or federal work-study programs.
Additionally, College Art Association (CAA) awards five Professional Development Fellowships in the Visual Arts of $5,000 each to outstanding students who will receive MFA degrees. Eligibility requirements and application guidelines will be available on the CAA website. These are annual awards, with the deadline typically in early October.
If you are interested in university wide Graduate Fellowships/Scholarships should refer to the Graduate School's website where further information may be found on additional fellowship opportunities.
Graduate applicants are encouraged to visit the school firsthand or to speak with the faculty about their interest in the program. Prospective students can schedule visits through our Graduate advising office, Ms. Diane McClain-Inman, dinman@siu.edu 618-453-4313 or have a general campus tour scheduled through the admissions office.
Student Organizations (RSOs)
We have more than 11-registered student organizations specific to art and design programs. Most of the groups are open to students across all areas of emphasis, so there is nothing stopping you from expanding your horizon in the art field.
Several of the organizations have national affiliations, while others are unique to SIU. This provides a route to connect with students and gain additional experiences to prepare you for your career.

Application Process 
Apply to the MFA Program by February 15th for the 2023 Fall Semester.
Please note that you must apply for admission to both the School of Art and Design and the Graduate School.
MFA Application
Graduate School Application and Links:
Other Resources: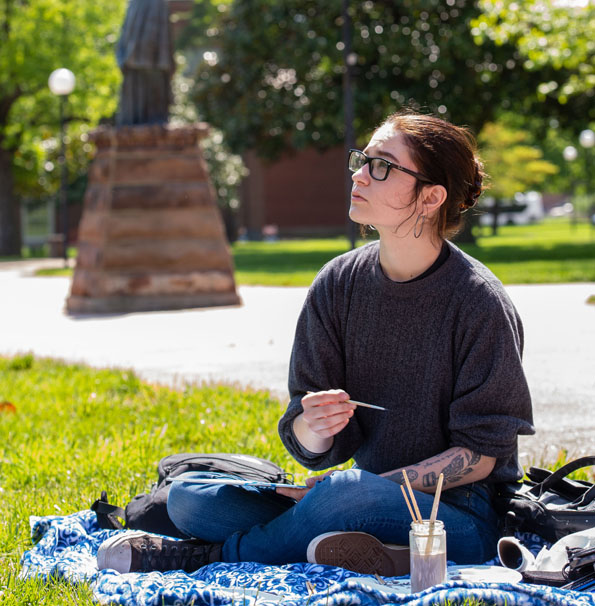 Contact Information
For more information about the program or to request information, contact:
Pattie Chalmers
Director of Graduate Studies
Allyn 103
1100 S. Normal Avenue
Carbondale, IL 62901
618-453-4313
chalmers@siu.edu 
Diane McClain-Inman
Office Support Specialist
Allyn 103
1100 S. Normal Avenue
Carbondale, IL 62901
618-453-4313
dinman@siu.edu
Careers in Art
Our graduates have found careers as studio artists, designers, academics, curators, technicians, gallerists and more. The cross-disciplinary focus of our programs gives an added edge, equipping our grads to reach their professional goals. For those students attracted to teaching efforts are made to assist you in gaining teaching experience while you are in our program.