Main Content
S.A.M. Lab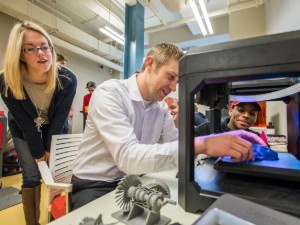 555 Clocktower Drive, Carbondale, IL 62901
S.A.M. Lab is the School of Art and Design's Subtractive and Additive Maker Laboratory located in Pulliam Design Wing room 51.
The SAM Lab provides access to 3D printing, laser cutting, vinyl cutting, large format vinyl cutting and plotting, desktop 2 axis CNC, VR/MR prototyping, Arduino prototyping equipment, plastic granulator, filament extruder, and other rapid prototyping tools.
Email samlab@siu.edu to schedule projects and submit files.
View our S.A.M. Lab Schedule PDF (PDF)
Rates:
Laser Cutter: $3 setup + $0.40/minute
3D Printer – MakerBot: $3 setup + $0.35/gram
3D Printer – FormLabs Form 1+: $3 setup + $0.56/ml
Vinyl Cutter: $3 setup + $1/linear foot (24" roll), $1.50/linear foot (24" sandblast/acid resist roll) Check for availability–user to provide vinyl for large quantities.
Resources:
Laser Cutter
3D Printer – MakerBot
3D Printer – FormLabs Form 1+
Vinyl Cutter
Arduino Workshops
3D Scanner
School of Art and Design | College of Arts and Media | 618-453-4315 |