Main Content
Visual Resource Center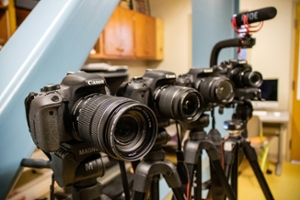 555 Clocktower Drive, Carbondale, IL 62901
The School of Art and Design's Visual Resource Center is located in room 51 of the Pulliam Design Wing and supports academic instruction, creative production and research of both faculty and students. This includes supplying a variety of visual equipment.
Visual Resource Center Equipment
View our Schedule (PDF)
Equipment available for faculty and student use includes:
Digital Still and Video Cameras
Tripods (with Dolly)
Digital Projectors
HD Video Players
iMacs
For reservations of equipment, assistance in obtaining digital images not available from the collections below, or any other questions regarding visual resources, visit the Visual Resource Center located in the Pulliam Design Wing room 51 or email soad.vrc@siu.edu.
Digital Image Collections
School of Art and Design | College of Arts and Media | 618-453-4315 |