Main Content
Christopher Walczak

,

Associate Professor
Music
Born in Milwaukee, Wisconsin and provoked by a family of passionate and latitudinous overachievers, creating music has been a part of everyday life for Christopher Walczak from kindergarten afternoons until the present.
Many years and three degrees later, Christopher finds himself reconciling the kaleidoscopic array of sound and thought absorbed along the way. His repertoire includes works for solo instruments, chamber ensembles of various sizes, full symphony as well as chamber orchestra, music for computer, and interactive electro-acoustic music.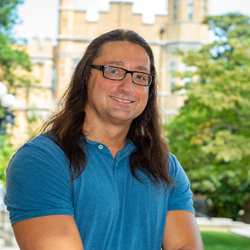 Office:
Altgeld 022
Dr. Walczak holds both bachelor's and master's degrees in Music Composition from the University of Wisconsin - Madison and a doctorate from Rice University. He has studied with composers Gunther Schuller, Stephen Dembski, Joel Naumann, Laura Schwendinger, Shih-Hui Chen, Richard Lavenda, Pierre Jalbert, and Arthur Gottschalk. Christopher's music, which New York's cityArts hailed as "singing with lucid and unexpected harmonies," has been commissioned, performed, and recorded by various orchestras and ensembles including the Little Giant Chinese Chamber Orchestra, Wisconsin Chamber Orchestra, the Shepherd School of Music Symphony Orchestra, the University of Wisconsin - Madison Symphony Orchestra, the University of Wisconsin - Milwaukee Wind Ensemble, Apollo Chamber Players, the Wisconsin Alliance for Composers, Symphonic Brass of Houston, Flutes Quatre, Zeitgeist New Music Ensemble, Brightmusic Chamber Ensemble, Ensemble Laboratorium, Relache, and members of Grammy Award winning eighth blackbird. In addition to the many performances in the United States, his music has been programmed in China, Croatia, France, Norway, Switzerland, Romania, and Taiwan. The Wisconsin State Journal has written that Walczak's music is "highly original, arresting and intense, constantly moving forward and diving deeper emotionally."
Christopher has been admitted as a fellow to many renowned composition conferences and festivals, including June in Buffalo, the Wellesley Composers Conference, MusicX, and the Czech-American Summer Music Institute. In April of 2012, Christopher's solo piano work, Dark Blue Etude received its Carnegie Hall debut by pianist Andrew Staupe in New York City and was later broadcast on National Public Radio's Performance Today with Fred Child. His orchestral tone poem, The Evening Shadow, was the winner of the 2013 Paul and Christiane Cooper Prize in Composition. The composer has been nominated on four occasions for awards by the American Academy of Arts and Letters. He was the winner of the 2011 Robert Avalon Composition Competition, the recipient of the 2010 Presser Music Award, and the winner of the 2008 Chasm New Music Festival Composition Competition among other awards and honors.
On the frontier of music technology, Christopher is currently working on a digital musical platform that allows musicians to improvise together with artificial intelligence. From 2014-2018, he explored 'spatially activated musical improvisation' while working with the Wisconsin Institutes for Discovery on the VIDI Project: an interactive experience in which infrared cameras track the motion of human beings and then map those movements onto generative musical data. As a music theorist, Dr. Walczak specializes in innovative analytical approaches, transformational networks, and rational reconstructions of the tonal system.
Christopher is forever indebted to the many great teachers who have shaped his worldview and life. He is tremendously devoted to his students and offers that knowledge gladly, working closely with them toward achieving their artistic and professional goals.