Main Content
Yuko Kato

,

Associate Professor, Keyboard Area Coordinator
Music
Yuko Kato has performed as a soloist and collaborative musician in the United States and internationally.
She has performed recitals at The Banff Centre in Canada, at Musiksalon Erfurt in Austria, and in various music festivals, including the Friday Recital Series at Carleton University in Ottawa, Canada, the New Sound Festival at SUNY Fredonia, the St. Paul Concert Series in Cincinnati, the New Music Circle in St. Louis, the Gesher Music Festival in St. Louis, the Austin Chamber Music Center Festival in Texas, the Cedarhurst Chamber Music Series at Cedarhurst Center for the Arts in Illinois, and the Outside the Box Festival at Southern Illinois University. The winner of the Artists International Competition in New York, Dr. Kato gave her New York solo debut at Carnegie Hall in 2004. The New York Concert Review described her playing as, "Powerful and the technical skill impressive…One could fully enjoy the richness of the performer's imagination."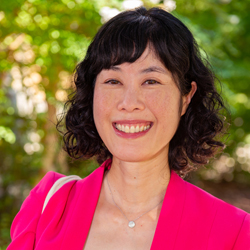 Office:
Altgeld 206
Email:
yukokato@siu.edu
A native of Los Angeles, Dr. Kato began her musical studies at the Colburn School of Performing Arts. She holds a Bachelor of Music degree with honors from Northwestern University, where she was the recipient of the Margaret E. Dadian scholarship, and Master of Music and Doctor of Musical Arts degrees in Piano Performance from Manhattan School of Music in New York. Additional studies include residencies at the Dartington International Summer Program in England, the Banff Centre in Canada, and the Aria International Music Academy in Canada.
Dr. Kato is a founding member of the Borealis Piano Duo and the Chiaroscuro Trio. In addition to premiering a number of new works for voice, viola, and piano, Chiaroscuro Trio has enjoyed working with many composers including Libby Larsen, Graham Reynolds, and Michael Colgrass. The Trio has performed live on Wisconsin Public Radio on the "Sunday Afternoon Live From the Chazen" program and has a commercially available recording titled, "New People" on Albany Records.

Dr. Kato serves as Associate Professor of Piano at Southern Illinois University Carbondale.
Courses:
MUS 040Q-540Q: Applied Piano
MUS 105A: Basic Harmony I
MUS 105B: Basic Harmony II
MUS 365F Chamber Music
MUS 400: Performance Techniques
MUS 479A: Solo Piano Literature I
MUS 479J: Solo Piano Literature II
MUS 566L Chamber Music