Main Content
Richard Kelley

,

Interim Director, School of Music; Associate Professor, Saxophone
Music
Richard Kelley has been Associate Professor of Saxophone and Director of Jazz Studies at Southern Illinois University Carbondale since 2008, performing numerous engagements across the United States, Mexico, Canada, much of Europe and several Caribbean countries. Active in all genres that welcome the saxophone, he has been featured as concerto soloist with several orchestras and bands, served as guest soloist with numerous jazz ensembles, and is often called upon to perform with touring groups throughout the United States.
Described as "exciting and engaging" and "having beautiful lyricism," Dr. Kelley's playing has been featured on a variety of recordings; from SIU Professor Emeritus Philip Brown's Arkadia, to the multi-artist Liquid Architecture Project, where he collaborated with Douglas Quin to create Vostok Ice Memories. He has enjoyed several performances at the World Saxophone Congress, the North American Saxophone Alliance Conference, the United States Navy Band Symposium, International Association of Jazz Educators Conference, and the Jazz Education Network Conference. This October, he will be an invited speaker at the inaugural Jazz UV Conference in Veracruz, Mexico.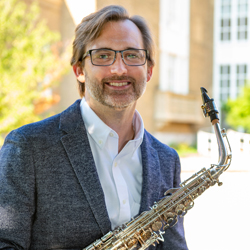 Office:
 Altgeld 022
Phone:
618-536-8742

Email:
kelley2@siu.edu
As an improvisor and working jazz musician, Dr. Kelley often times "very nicely gets out of hand" with his own groups and his long-term membership in the New Arts Jazztet. He also composes and arranges for his own groups in addition to creating works for Jazz Ensembles, Chamber Groups, Saxophone Quartets, Saxophone Soloists and occasionally for Symphony Orchestras. Housed in his own RiPaRuKe Publishing, Dr. Kelley's pedagogical materials and arrangements are easily accessible and favored by many.

Currently Dr. Kelley is pursuing research on multiple fronts. As a proponent for the development and implementation of the Electronic Wind Instrument, he is designing easy to use frameworks within several DAW's that allow for straight forward EWI manipulation through MIDI foot pedals, in addition to creating a simple software interface to use the EWI as a vocoder in recorded and live performance. In the Spring of 2019, Dr. Kelley will take a sabbatical to investigate song writing practices over the past 200 years, in an effort to learn more about melodic traits that could be used in improvisation and arranging, in addition to developing a Survey of Song Writing Course to better serve students at Southern Illinois University.

Dr. Kelley's education has in part developed from sharing the stage with artists such as Jon Faddis, Dick Oatts, Stefon Harris, Doc Severinsen, Charles McPherson and many others. Likewise, his numerous lessons and masterclasses with Jean Marie Londeix, Jean Yves Formeau, Nobuya Sugawa, Kenny Garrett, and Glenn Wilson to name a few have been instrumental in his development. However, most significant has been the enduring guidance of his primary teachers; Perry Rask, Debra Richtmeyer, Paul Bro, and Chip McNeill.
Education
DMA, University of Illinois, Jazz and Improvised Music Studies, 2012
MM, Indiana State University, Saxophone Performance, 2004
BM, Millikin University, Saxophone Performance, 2002
Courses
MUS 033a: Woodwind Techniques
MUS 040e-540e: Applied Saxophone
MUS 103: Music Understanding (Summer only)
MUS 112: Jazz Fundamentals
MUS 324: Instrumental/Choral Arranging
MUS 335: Jazz Styles and Analysis
MUS 365C: Saxophone Quartet
MUS 366G/566J: Studio Jazz Orchestra
MUS 257/405: Internship
MUS 430a/430b: Jazz Arranging I and II
MUS 474: Survey of Jazz History
MUS 487: Music Business Senior Project
MUS 488: Liberal Arts Senior Project