Main Content
Maria Johnson

,

Associate Professor
Music
Maria Johnson is Associate Professor of Ethnomusicology in the School of Music at Southern Illinois University, Carbondale where she regularly teaches two CORE Curriculum courses-- Music 203 - Diversity & Popular Music in American Culture and Music 303I - Women, Blues & Literature, offers topics courses in Ethnomusicology-- Women in Music and Music and Social Change, and supervises graduate and undergraduate independent studies in ethnomusicology.
On sabbatical Fall 2005, Johnson is working on a book entitled Kickin' Ass and Takin' Names: Saffire and the Tradition of Uppity Women's Blues.

Raised in central Massachusetts, Johnson earned degrees in music from The Colorado College (B.A., Magna cum Laude) and The University of California at Berkeley (M.A., Ph.D. in ethnomusicology), and was awarded an Irvine Foundation Postdoctoral Teaching Fellowship at Stanford University from 1993-1995. Prior to her arrival at SIUC in 1997, she taught at Stanford University, The Colorado College, and The University of California at Berkeley.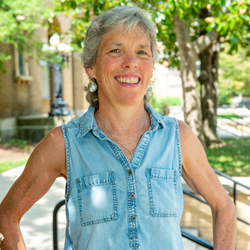 Office:
OBF
215
Phone:
618-453-2073
Email:
mariavj@siu.ed
u
Johnson's articles on women's blues and interdisciplinary scholarship on African American women's literature as performance appear in African American Review, Arkansas Review: A Journal of Delta Studies, Women and Music: A Journal of Gender and Culture, Frontiers: A Journal of Women Studies, Black Orpheus: Music in African American Fiction From the Harlem Renaissance to Toni Morrison (Garland, 2000), and More than the Blues: Interdisciplinary Perspectives on Black Women and Music (University of Illinois Press, 2005), She has also contributed essays to Notable American Women: A Biographical Dictionary (Harvard, 2004), The Encyclopedia of the Blues (Routledge, 2005), and the Encyclopedia of African American Folklore (Greenwood, 2005). She presents regularly at the annual meetings of The Society for Ethnomusicology, The U.S. Branch of The International Association for the Study of Popular Music, The Delta Blues Symposium, and at the bi-annual Feminist Theory & Music conferences. Other notable presentation venues include The International Conference on the Blues Tradition: Memory, Criticism & Pedagogy (State College, PA), Conference on America's Blues Culture and Heritage (Jacksonville, FL), The Zora Neale Hurston Festival of the Arts & Humanities (Orlando, FL), The Scripps College Inaguural Symposium on Women and Music (Claremont, CA), The 1998 International Conference on Bob Dylan (Palo Alto, CA), Music, Sexuality, and Performance Symposium (Berkeley, CA), and Language and Culture: East and West (Manoa, Hawaii).

A blues performer, Johnson is a member of the all-female quintet, Loose Gravel (piano/keyboards, guitar, vocals). In addition to performing regularly at campus functions and community events including "Celebrating Women in the Arts," "Women of Distinction," "Arts in Celebration," "Brown Bag Concerts," "Take Back the Night" and Women's Center Benefits, Loose Gravel was featured at The Delta Blues Symposium VI: Women in the Delta (Jonesboro, AR), The Southern Illinois Women's Health Conference, and at The 25th Annual John A. Logan College High School Writing Competition. The band released a self-produced self-titled compact disc of original recordings in 2003.

Johnson's professional service to the Society for Ethnomusicology includes co-chairing the Section on the Status of Women (2002-2004) and co-chairing The Gender & Sexualities Taskforce (1999-2003).
Courses
MUS 203: Diversity and Popular Music
MUS 303I: Women Blues and Literature
UHON 351: Women Blues and Alternative Community MUS 450: Topics in Ethnomusicology
MUS 450: Topics in Ethnomusicology
MUS 450A: Women in Music
MUS 450B: Music and Social Change
MUS 451: Topics in African American Music
MUS 452: Topics in Blues
MUS 452A: The Tradition of Uppity Women's Blues
MUS 452B: Blues and Boogie Woogie Piano Styles