Main Content
Dustin A. Greenwalt

,

Assistant Professor of Practice, Coordinator of Undergraduate Studies
Communication Studies
Dustin A. Greenwalt is an Assistant Professor of Practice who specializes in Rhetorical Theory and Environmental Communication in the School of Communication Studies at Southern Illinois University, Carbondale. He holds a Ph.D. in Rhetorical Theory from the Communication Studies Department at the University of Georgia (2015), an M.A. in Rhetoric from the Department of Communication Studies at Baylor University (2010) and a B.A. in Communication Studies from Wayne State University (2008). 
He is currently the Director of Undergraduate Studies in the School of Communication Studies here at SIU, Carbondale. His teaching interests include rhetorical criticism and theory, environmental communication, media theory and social media, as well as the history and practice of social movements.  
Dr. Greenwalt has published essays in edited volumes as well as articles in journals such as Rhetoric Society Quarterly, Communication and Critical/Cultural Studies, and Environmental Communication.  
Operating at the intersections of continental philosophy, rhetorical theory, visual studies, and cultural studies, his work examines the 20th Century environmental movement, the contemporary climate justice movement, visual rhetorics of science and the environment, contemporary anti-fascist media, as well as food rhetorics and embodiment.  
For more information about his publications, please visit his Academia page: https://siucarbondale.academia.edu/DustinGreenwalt  
Follow Dr. Greenwalt on Twitter  @DAGreenwalt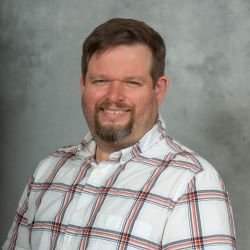 Office: Comm Building 2002A
Phone: 618-453-1887
dustin.greenwalt@siu.edu
SPECIAL INTERESTS
Rhetorical criticism and theory
Environmental communication
Media theory and social media
History and practice of social movements
EDUCATION
Ph.D., University of Georgia, 2015