Main Content
Christina Ivey

,

Assistant Professor
Dr. Christina L. Ivey (she/they) is an Assistant Professor at Southern Illinois University Carbondale. They received their B.S. in Corporate Communication from West Texas A&M (2010), their M.A. in Communication Studies from Kansas State University (2012), and their Ph.D. in Communication Studies from University of Nebraska – Lincoln (2016). While in her Ph.D. program, she held a major emphasis was Rhetoric and Public Culture and a minor emphasis was Interpersonal and Intergroup Communication. She also obtained a graduate certificate in Women and Gender Studies from UNL. They are currently the Introductory Course Coordinator.
Their primary research interests include: intersections of gender/religion, embodiment of marginalized identity, queer/feminist rhetorics, autoethnography, and gaming. Specifically, they are interested in the various intersections of personal identities, namely issues faced by individuals identifying in ways that are normatively understood to be in conflict. For example, in her recent publication Queering Queer Conversations (2021), she interrogates the relationship between the labels of "queer" and "prude" to uncover how the performance of sexuality undergirds normative understandings of the queer experience. Other identity intersections studied by Dr. Ivey include: feminism(s) and Islam, queerness and Christianity, academia and neurodivergency.
Their work has been featured in such journals as: Journal of Autoethnography, QED: A Journal in GLBTQ Worldmaking, Departures in Critical Qualitative Research, Women's Studies in Communication, and The Forensic of Pi Kappa Delta. They also have chapters in Urban Communication Reader IV: Cities as Communicative Change Agents, and Doing Autoethnography. Dr. Ivey also has a self-published chapbook of poetry entitled Sacred Geometry, and enjoys incorporating poetic inquiry into her research wherever she can. She has toured across the country as a featured poet and performing artist, sharing her work in a variety of creative ways.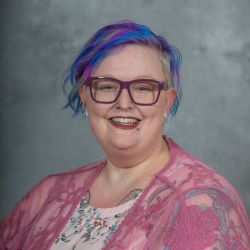 Office: Comm Bldg, Room 2002K
christina.ivey@siu.edu
Education 
Ph.D., University of Nebraska, 2012
Research Interests 
Intersections of gender and religion 
Embodiment of marginalized identity 
Queerness and feminism rhetoric
Autoethnography
Gaming