Main Content
Julie Partridge

,

Professor and Faculty Athletics Representative (FAR)
Exercise Science, Sport Administration, Human Sciences
Dr. Partridge is an Professor of Human Sciences and Faculty Athletics Representative (FAR) for the university. Her primary focus of training and study is in the sub disciplinary area of sport and exercise psychology. She also serves as Director of the Social Psychology of Sport Laboratory.
Dr. Partridge's research interests include the impact of social influence (i.e., peers, parents, coaches, siblings) on psychosocial outcomes in sport and physical activity, as well as the effects of shame and embarrassment on physical activity performance. She also works as a sport psychology/performance enhancement consultant with athletes from a variety of sports/competitive levels. 
Her teaching duties at the undergraduate level include Behavioral Aspects of Exercise (KIN 318) and Psychosocial Aspects of Sport and Physical Activity (KIN 345). At the graduate level, Dr. Partridge teaches coursework required for both Exercise Science and Sport Studies students including Applied Sport Psychology (KIN 412), Psychological Aspects of Sport (KIN 504), and Exercise Psychology (KIN 530). 
Dr. Partridge has served her profession as an editorial board member of the Journal of Applied Sport Psychology (AASP), and has also reviewed for multiple journals in the field. She is a member of both AASP and the North American Society for the Psychology of Sport and Physical Activity (NASPSPA), and is on the Board of Directors of the National Alliance for Youth Sports (NAYS).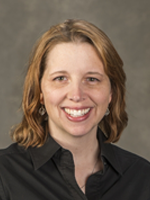 Office: Davies Hall, 160A
Phone: 618-453-3119
Email: jpartrid@siu.edu
Education
Ph.D., University of Northern Colorado (Sport and Exercise Science – Social Psychological Kinesiology), 2003
M.A., University of North Carolina at Chapel Hill (Sport Psychology), 1998
B.S., Kansas State University (Psychology), 1996
Selected Publications
Partridge, J. A., Knapp, B. A., & Massengale, B. D. (in press). An investigation of motivational variables in CrossFit facilities, Journal of Strength and Conditioning Research.
Anton, P. M., Partridge, J. A., & Morrissy, M. (2013). Cancer caregivers' perceptions of an exercise and nutrition program.Journal of Supportive Care in Cancer, 21(3), 803-810. Doi: 10.1007/s00520-012-1583-8. 
Partridge, J. A., & Wiggins, M. S. (2008). Coping styles for trait shame and anxiety intensity and direction in competitive athletes. Psychological Reports, 108, 703-712.