Main Content
Kinesiology, Sport Administration
Tony Calabrese has been associated with SIU since 1960 as a student, athlete, and graduate assistant.  He attended SIU from 1960-1966 where he received his BS in Physical Education, and was a member of the SIU Men's Gymnastics Team that won an NCAA National Championship, and compiled a record of 67 wins and no losses.
During the summers from 1967-1980, Tony was a High Adventure instructor at SIU's Touch of Nature Underway Program at Little Grassy Lake.
After graduation, Tony taught at Glenbrook South High School from 1966-1993 where he taught Physical Education and Adventure Education. He also coached Boys' Gymnastics, Girls' Gymnastics, Boys' Volleyball, Girls' Volleyball, and Boys' Soccer. During that time he was selected as Illinois and Midwest "Physical Education Teacher of the Year", Finalist for "National Teacher of the Year" and was twice selected as Illinois "Coach of the Year" for Men's and Women's Gymnastics.
After retiring in 1993, Tony and his wife, Rhea, moved to Southern Illinois where he continued his teaching and coaching career with the following positions:
Anna Jonesboro High School, Anna, Il, 2003-2008 Girls Volleyball Coach
Anna Junior High School, Anna, Il. 2004-2008 Girls' Volleyball Coach
Carbondale High School, Carbondale, Il. 2009, Girls Volleyball Coach
Since 2004, Tony has taught a variety of classes in the Kinesiology Department at SIU specializing in the PETE Program and Teambuilding. He is also involved in the following University and College committees: 
Co-Director of PETE - Teacher Education Program
NCATE Certification Committee
Chairperson of SIU Touch of Nature Advisory Committee
Director of the Southern Illinois Physical Education and Health Conference 2004-2014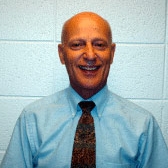 Office: Davies Hall, 116
Phone: 618-536-2431
shawnhil@siu.edu
Education
B.S., Physical Education, 1965 SIUC
M.A., Teambuilding Curriculum Design, DePaul University, 1988