Main Content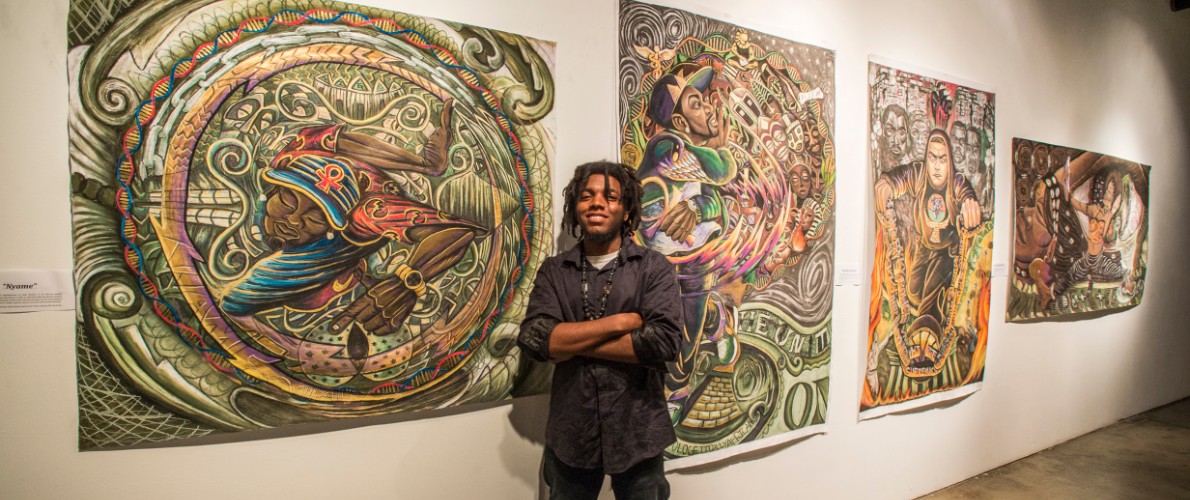 Whether you are looking to teach, create, design or discover, we've got you covered. With a rare collection of studio, design, and academic pursuits, our interdisciplinary program gives you every opportunity to excel as an artist and a designer, an educator, and/or an historian.
You will learn and work with world-renowned faculty and visiting artists, through our Visiting Artist Program, in this hands-on program. With 24-hour access to many of our state of the art facilities and multiple scholarships, grants and awards, we have everything ready for you to step into your future.
Our school's interdisciplinary bachelor of fine arts degree and bachelor of arts degree together offer 13 areas of study to cover your unique interests. We combine theory with studio practice, and provide you with advanced technological resources, creative research and global experience. With your degree, you will be prepared to work in a range of artistic, creative, teaching, and scholarly professions.
Our MFA programs are structured to provide you with exposure to a broad range of creative approaches in nine areas of study: Blacksmithing, Ceramics, Design, Drawing, Glass, Painting, Printmaking, Sculpture and Small Metals. We promote a diverse approach to making with courses designed to address contemporary issues while promoting an atmosphere balanced between conceptual development and material exploration. You will find they are well supported in cross-discipline exploration as they strive to develop their best work.
Our four unique minors provide supplemental experience and knowledge to set you apart in your field. By taking just a few extra classes, you could get a minor in Art, Art Education, Art History or Industrial Design.  These minors coincide with all of our areas of emphasis and let you customize a degree plan based on your individual goals and desires.