Main Content
Glove Factory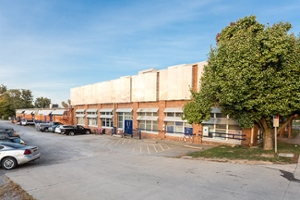 432 South Washington Avenue, Carbondale, IL 62901
Formerly the home of the Good Luck Glove Company, the Glove Factory is now a renovated facility containing premium studio, instructional, and exhibition space.
The Sculpture facilities include a large open area for undergraduate instruction, in addition to a well-equipped woodworking shop, a welding area, and a large adjoining fabrication space.
The following machines are available for student use: an industrial-size planer, a radial arm and cut-off saws, table saws, drill presses, lathes, pedestal sanders and grinders, a jointer, three band saws, a horizontal band saw for metal, a Hasenfeld bender, an oxy-acetylene rig, and a MIG welder. Classroom space for Painting and Foundations can also be found in the Glove Factory.
The Surplus Gallery is an approximately 4,000-square-foot gallery conducive to both experimental and traditional exhibitions, performances, and art events. The premier space for cutting-edge, high-quality art in the region, The Surplus's name derives from its former function as SIUC's Surplus Property storage. Recently renovated into a fully climate-controlled gallery featuring ample clean wall space and state-of-the-art lighting, The Surplus still maintains its industrial ambiance and versatility, thanks to its polished concrete floor and location in the multipurpose Studio Arts Building housed in the former Good Luck Glove Factory. Exhibitions range from MFA thesis and graduating senior shows, to the "Art Over Easy" benefit exhibition and auction, the annual "Love at the Glove," "Process, Performance, Projection," and C4 sculpture events, to invitational shows featuring artists from across the region and country.
The studios for Painting, Drawing, and Printmaking graduate and undergraduate students are located on the second floor and are unrivaled in their spaciousness and light.