Main Content
Omid Kamran Disfani

,

Assistant Professor
Omid Kamran Disfani joined the faculty at SIU College of Business in 2019 after earning his PhD in Business Administration (Marketing) from the University of Missouri. Dr. Kamran has also received a Master's degree in advertising and marketing from University of Leeds (England), a graduate certificate in applied statistics from University of Kentucky, and a BSc in industrial engineering from AmirKabir University of Technology (Iran).
Professor Kamran's research and teaching interests revolve around managerial marketing, marketing strategy, and data analytics. More specifically, he examines the consequences of firms' strategies on their performance and the ways in which managerial decision making in marketing, particularly in retailing and services contexts, can be improved. His research has been published in academic journals such as Journal of Service Research, European Journal of Marketing, and Journal of Business Research.
Dr. Kamran currently teaches marketing strategy and management at undergraduate, MBA, and PhD levels. He also teaches data science, brand management, and advertising management at the undergraduate level. A native of Iran and a U.S. citizen, Kamran enjoys traveling, watching major soccer tournaments, and attending academic and practitioner conferences where he shares his ideas and learns from peers and experts in the field.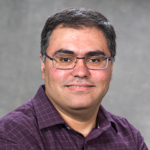 Research Interests
Marketing Strategy
Retailing
Services Marketing
Business Analytics
Selected Publications
Kamran-Disfani, O., Bagherzadeh, R., Bhattarai, A., Farhang, M., & Scheer, L. K. (2023). Constructive resistance in the frontlines: how frontline employees' resistance to customer incivility affects customer observers.

 

Journal of Service Research,

 

26(4), 560-577.
Farhang, M.,

 

Kamran-Disfani, O., & H. Zadeh, A. (2023). Brand equity and stock performance in time of crisis: evidence from the COVID-19 pandemic.

 

Journal of Product & Brand Management,

 

32(3), 420-435.
Aghaie, S.,

 

Kamran-Disfani, O., Javadinia, A., Farhang, M., & Bhattarai, A. (2022). Incumbent defense strategies and new entrants market exit: the moderating role of relational market-based assets.

 

European Journal of Marketing,

 

56(5), 1556-1583.
Bloch, P. H., &

 

Kamran-Disfani, O.

 

(2018). A framework for studying the impact of outdoor atmospherics in retailing.

 

AMS Review,

 

8, 195-213.
Kamran-Disfani, O., Mantrala, M. K., Izquierdo-Yusta, A., & Martínez-Ruiz, M. P. (2017). The impact of retail store format on the satisfaction-loyalty link: An empirical investigation.

 

Journal of Business Research,

 

77, 14-22.