Main Content
Kofi Akamani

,

Associate Professor
Forestry
Kofi Akamani is an Associate Professor of Forest Recreation and Conservation Social Science in the Department of Forestry at Southern Illinois University. Akamani conducts research in rural communities in Ghana and the US in order to better understand and enhance the resilience of rural resource-dependent communities and the adaptive governance of forests, water resources, and agricultural landscapes in the face of climate change impacts and other change drivers.
His interdisciplinary teaching and research integrate concepts from social-ecological systems research, rural sociology, and common pool resources among others, with the aim of gaining a theoretical understanding of human-environment interactions across multiple scales, and informing policies that promote human well-being and ecosystem health across the rural-urban continuum.
Special Interests
Human dimensions of natural resource management; Resource-dependent community sustainability; International protected areas and conservation policy; Nature-based tourism and recreation planning; Resilience and vulnerability in rural and urban settlements; Adaptive governance of forests, land, and water resources; Natural resource collaboration and conflict management; Natural resource planning and policy analysis; Interdisciplinary research; Mixed methods research.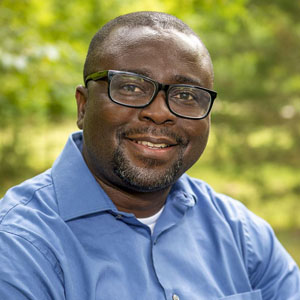 Office: Agriculture Building, Room 194-B
Phone: 618-453-7464
k.akamani@siu.edu
Curriculum Vitae
Classes
FOR 585 - Human Dimensions of Natural Resource Management
FOR 325 - Forest Resources Administration and Policy
FOR 285 - Social Influences in Forestry
FOR 480 - Natural Resource Conflict Management
FOR 421 - Recreational Land Use Planning
Descriptions available for each of these classes in course listings for Forestry [FOR].
Education
PhD. Natural Resources: University of Idaho, Moscow, Idaho, U.S.A. (05-2011)
MPhil. Culture, Environment and Sustainability: University of Oslo, Norway (06-2006)
BSc. Planning: Kwame Nkrumah University of Science and Technology, Kusmasi, Ghana (07-2003)
Professional Service/Recognition
Associate Editor/Editorial Board Member: Journal of Contemporary Water Research and Education; Society & Natural Resources
Section Editor/Special Issue Editor: SAGE Open; Sustainability
Early Career Faculty Award: College of Agricultural Sciences, SIUC (05-2016)
Proposal reviewer: National Science Foundation (2017); Social Sciences and Humanities Research Council, Canada (2020)
Faculty Senate representative on the SIU Chancellor's Diversity Task Force (07-2020 to present)
Recent Publications
Akamani, K. (2020). Integrating deep ecology and adaptive governance for sustainable development: Implications for protected areas management. Sustainability 12(14): 5757.
Shalizi, M. N., Khurram, S., Groninger, J. W., Akamani, K., & Morissey, R. C. (2020). Redbud woodlands conservation status in Afghanistan: Implications for sustaining vulnerable ecosystems under multiple drivers of change. Global Ecology and Conservation, 22, e00942.
Mundia, C., Secchi, S., Akamani, K., Wang, G. (2019). A regional comparison of factors affecting global sorghum production: The case of North America, Asia, and Africa's Sahel. Sustainability, 11, 2135.
Akamani, K., & Hall, T. (2019). Scale and co-management outcomes: Assessing the impact of collaborative forest management on community and household resilience in Ghana. Heliyon, 5(1), e01125.
Akamani, K., & Holzmueller, E. J. (2017). Socioeconomic and policy considerations in the adoption of agroforestry systems: An ecosystem-based adaptive governance approach. In Dagar, J. C., & Tewari, V. P. (eds.), Agroforestry. Springer Nature, Singapore, pp. 833-855.
Akamani, K. (2016). Adaptive water governance: Integrating the human dimensions into water resource governance. Journal of Contemporary Water Research and Education, 158, 2-18.
Akamani, K. (2016). Resilience, adaptive governance and agroforestry in a world of uncertainty. In Dagar, J. C., & Tewari, J. C. (eds.), Agroforestry research developments. Hauppauge, NY: Nova Science Publishers, pp. 546-559.
Akamani, K. (2016). Toward ecosystem-based adaptation to climate change in West Africa: The potential contributions of non-governmental organizations. In Yaro, J. A., & Hesselberg, J. (eds.), Adaptation to climate change and variability in West Africa. Switzerland: Springer International Publishing, pp. 191-213.
Akamani, K. (2016). Using adaptive governance to enhance transitions toward sustainable and resilient energy systems. Journal of Social Sciences, 49(3), 183-194.
Akamani, K., Holzmueller, E., & Groninger, J. W. (2016). Managing wicked environmental problems as complex social-ecological systems: The promise of adaptive governance. In Melesse, A. & Abtew, W. (eds.), Landscape dynamics, soil and hydrological processes in varied climates. Springer Geography, pp. 741-762.   
Behnken, J., Groninger, J. W., & Akamani, K. (2016). Institutional constraints to collaborative ecosystem management within a wetlands conservation partnership. Journal of Contemporary Water Research and Education, 158, 19-33.