Main Content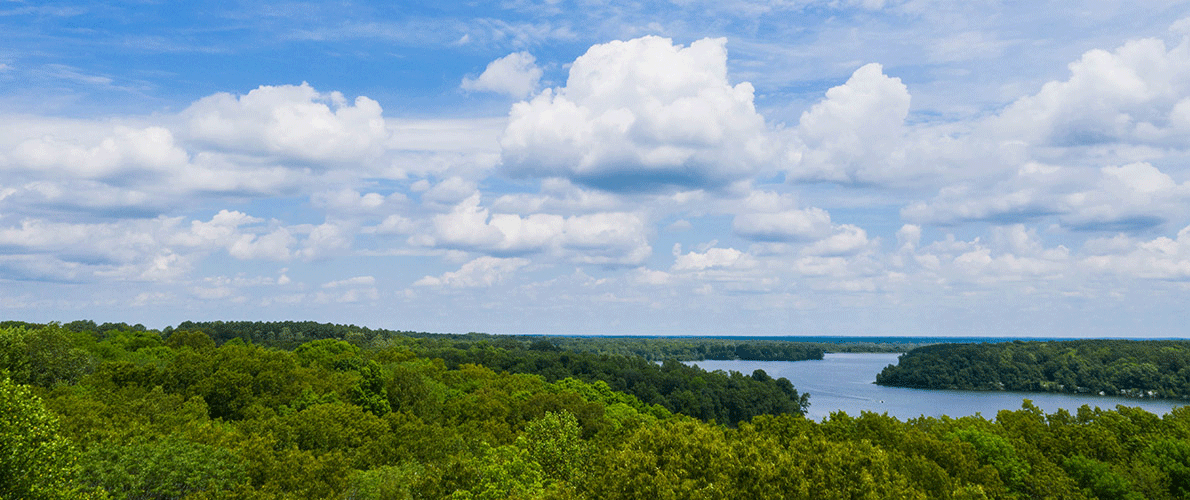 Research Lands
There is no better place to study forestry than Southern Illinois! We are uniquely positioned at the intersection of several ecological regions. Experience forests, bluffs, wetlands and grasslands – right in your own backyard!
We are nationally recognized for our 3,000 acres of university land and farms, including our Touch of Nature Outdoor Education Center. Our students get outside for field labs and demonstration programs at these sites and beyond!
Through various memoranda of understanding and special use permits we have use of forested lands and plots on the 43,000 acres of the Crab Orchard Wildlife Refuge, the 270,000 acres of the Shawnee National Forest, and the 4,000 acres of the Trail of Tears State Forest, all of which are within an hour's drive of Carbondale.
A number of research projects are also ongoing on private lands in southern Illinois.
The Touch of Nature Forest serves as an outdoor learning laboratory for Forestry students. With over 3,400 acres of land, Touch of Nature is the ideal spot for conducting both short-term and long-term wildlife research.
Recreation opportunities at Touch of Nature cover a range of activities, including hiking, rock climbing, ziplining, and mountain biking!
Other Facilities
Forestry students have access to diverse and boundless educational opportunities with a wealth of informational, technological, laboratorical and real-world tools at their disposal.
These include:
A variety of laboratories housed within the department, including those specializing in historical ecology and fire, GIS, human dimensions and water quality.
A research greenhouse operated at the Tree Improvement Center on the western side of the campus, in operation for research and teaching.
Greenhouses and growth chamber facilities in the agriculture greenhouses in conjunction with the Department of Plant, Soil, and Agricultural Systems.
Specialized equipment, tools and sampling devices for use in the field.
The Tree Improvement Center, where activities such as walnut breeding and cultivar evaluation; disease susceptibility studies, white ash flowering and grafting; pruning and thinning demonstration; and stand management strategies are ongoing.
40 acres dedicated to hardwood research demonstration at the Tree Improvement Center.
Our faculty work closely with local natural resource managers to provide quality field training and service learning opportunities in areas such as public relations, social and resource inventory, planning and decision making, visitor impact assessment and resource monitoring.
Classrooms with a view
Southern Illinois is blessed with an abundance of natural locations that are simply breathtaking. Since all forestry students are required to spend ample time in the field as part of their coursework and participate in summer field study courses, they get to take advantage of these outdoor locations, while gaining a wealth of hands-on experience in a natural setting.
Locations include:
Landscapes designated from wilderness to developed recreation, varying from bottomlands to uplands with rolling hills, bluffs, and rugged topography.
The 44,000-acre Crab Orchard National Wildlife Refuge; two State Parks; four recreational lakes and the 270,000-acre Shawnee National Forest - all located within 10 miles of the SIU campus.
Mosaics of forested and agricultural watersheds in the local community that are utilized in a variety of unique research applications involving undergraduate student support.
Other natural resources such as the 2,430 acre Giant City State Park, the 4,000 acre Ferne Clyffe State Park, the Trail of Tears State Forest, and the Cache River Wetlands, all of which are located within 10-45 minutes of the SIU campus.
Nearby lakes (including Crab Orchard, Kinkaid, Devil's Kitchen, Little Grassy, Lake of Egypt, Dutchman, and Cedar), ponds, and rivers (including the Mississippi), in addition to our own forests, woodlands and private lands.