Main Content
Robert Spahr

,

Interim Director of the School of Media Arts, Associate Professor
Robert Spahr is a visual artist and educator who produces computational art using generative processes and genetic algorithms; digital and analog images; objects; live art and time-based media.
With an interest in how the media affects our view of the world, his work explores the ever present cable news cycle which pushes a daily message of fear, filled with political polarization; domestic and foreign terrorism; celebrity scandals and the imminent threat of hurricane, earthquake or flood.
Robert's recent work involves writing simple algorithms that an automated computer system follows. The instructions outline what websites to target, and the system then downloads selected images and text, which are then used as source material, and remixed to create new artwork on a schedule that imitates the 24 hour cables news cycle.
Recent exhibits include:
Generative Art International Conference, Lucca, Italy 2012; Nictoglobe Online Magazine: Friction Research Issue #4 (Reclaim the Mind); Amsterdam, The Netherlands 2011; Interrupt II, Brown University; Generative Art International Conference, Milan, Italy 2010; 10 Years + Counting (10YAC), an online exhibit to mark the 10 year anniversary of our nation at war, September 2011; SOS ART, Creative Expressions for Peace and Justice, 2011; "Urban Interventions", at the College of Design, Architecture, Art, and Planning, University of Cincinnati.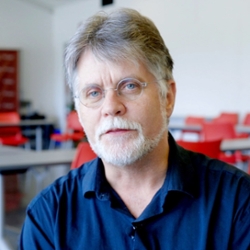 Office: Northwest Annex 213B
rspahr@siu.edu
Courses
• New Media Production
• History of New Media
• Generative Art and Live Art
• Net.Art
• Advanced Web and Interaction Design
Education
M.F.A., Parsons School of Design, New York City - 1991 
Interests
Computational art, generative and procedural art processes, genetic algorithms, free/open source software, free culture, mobile media, time-based media and live art.