Main Content
Cinema
Walter Metz is a Full Professor in the School of Media Arts at Southern Illinois University Carbondale. He earned a Ph.D. in Radio/Television/Film at the University of Texas at Austin in 1996, and holds an S.B. degree in Materials Science and Engineering from MIT (1989). He is the author of three books: Engaging Film Criticism: Film History and Contemporary American Cinema (2004), Bewitched (2007), and Gilligan's Island (2012). He is also the author of sixty refereed journal articles and book chapters about the intertextual relationships between film, television, novels, and theatre. His work roves across disciplines, grappling with the importance of audio-visual productions for understanding such disparate subjects as gender, comedy, poetry, opera, the Cold War, the Holocaust, science, and animals.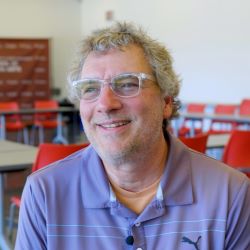 Phone: 618-453-2298
Office: COMM 1112
wmetz@siu.edu
Courses
Film Criticism
Photography Theory in Light of the Cinema
Theater and Mass Media
Non-Narrative Film and Television
Short Cinema Studies
The Television Sitcom
Education
Ph.D. at University of Texas, Austin, 1996
Interests
Contemporary film and television criticism and theory, literature and film, science and film, post-war American culture.