Main Content
Cinema
Walter Metz is a Professor of Film Studies who teaches film, television, theatre, and photography history, theory and criticism. As a researcher, Walter is interested in the relationship between popular media forms, such as the television sitcom and the Hollywood blockbuster film, and high, canonical literature. His book on Gilligan's Island was published by Wayne State University Press in March 2012. He is currently writing a manuscript about Dr. Seuss and the animated films made at Pixar Studios.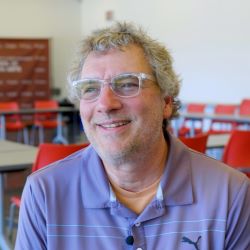 Phone: 618-453-2298
Office: COMM 1112
wmetz@siu.edu
Courses
Film Criticism
Photography Theory in Light of the Cinema
Theater and Mass Media
Non-Narrative Film and Television
Short Cinema Studies
The Television Sitcom
Education
Ph.D. at University of Texas, Austin, 1996
Interests
Contemporary film and television criticism and theory, literature and film, science and film, post-war American culture.