Main Content
Tyson Van Alfen

,

Assistant Professor
Tyson Van Alfen, Ph.D. joined the College of Business and Analytics in 2019. He earned his Ph.D. in Finance from the University of Kentucky and his M.S. and B.S. in Financial Economics from Utah State University.
His areas of research include financial advisors, reputation, product markets, and managerial myopia. This research has been presented at conferences such as Western Finance Association, European Finance Association, Financial Intermediation Research Society, and Midwest Finance Association, to name a few.
He has experience teaching both undergraduate and graduate students, covering topics such as investments, security valuation, working capital management, and applied econometrics. In order to make his courses as beneficial as possible for students, he seeks to incorporate Python programming examples into his lectures, as well as material from the Chartered Financial Analyst (CFA) curriculum.
Van Alfen is very excited to be part of the Saluki family. He is impressed with the ambition and energy of the students, the beautiful campus, and the commitment to supporting high-quality research.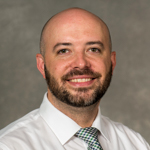 Rehn Hall, 126A
Office: 618-453-1418
Dept: 618-453-2459
tyson.vanalfen@business.siu.edu