Main Content
Tracy Prosser

,

Assistant Professor of Practice
Tracy Prosser joined SIU in August 2019 as an Assistant Professor of Practice teaching Legal and Social Environment of Business (FIN 270), Business Law I (FIN 280), and Business Law II (FIN 380).
Since 2000, she has also worked for the United States District Court for the Southern District of Illinois concentrating in Federal law and Federal litigation.
Prosser enjoys teaching future business leaders about the fundamentals of the law. She believes that, with this knowledge, they will be better critical thinkers because they will have a basis for questioning and evaluating the validity of information presented to them; they will be better citizens because they will understand why public duties and rights are important to our democracy and to businesses; and they will be better business professionals because they will more fully understand the acceptable paths to conducting business operations without running afoul of the law.
Prosser earned a bachelor of arts degree English and French from Wake Forest University in 1989, a juris doctor degree from the University of Michigan Law School in 1995, and a master of public health degree from SIU in 2013.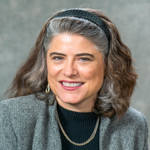 Rehn Hall, 130
Office: 618-453-1431
Dept: 618-453-2459
tprosser@business.siu.edu