Main Content
Shucui Zheng

,

Clinical Associate Professor
Shucui Zheng, PhD., joined the College of Business and Analytics in fall 2017. She earned her PhD. in Economics from Southern Illinois University Carbondale (SIUC) in 2019; Dr. Zheng also holds a MACC in Taxation and an MBA in Finance from SIUC.
Dr. Zheng is experienced in teaching both undergraduate and graduate courses (online and residential), including various topics such as Fundamental Micro Economics, Intermediate Cost, Advanced Cost Accounting, Fundamental Financial Accounting, Intermediate Financial Accounting, Corporate Taxation, and Partnership Taxation.
Dr. Zheng has a great passion for teaching and enjoys working with business students of diverse backgrounds. She uses a variety of teaching strategies to help students develop self-learning, problem-solving, and critical-thinking skills toward their career goals. She takes delight in seeing the transformative impact of Saluki business education on students' lives and careers.
Dr. Zheng is interested in research in Financial Reporting (such as Earnings Management and Patent Disclosure), Taxation, and Managerial Accounting. In her spare time, She loves spending time in outdoor activities, gardening, swimming, speed walking, reading, sewing, and cooking.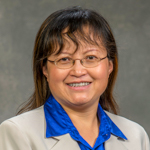 Office: Rehn Hall, 234A
Phone: 618-453-1413
shucuizh@siu.edu