Main Content
Bobette Stott

,

Instructor
Bobette Stott is a Los Angeles based design director, merchandiser, and practicing artist. With over 20 years professional industry experience, Stott specializes in lifestyle product categories, including athleisure, sportswear, dresses, and full fashion knits. Her collections have sold throughout Europe, Canada and Japan, and in the USA, at department stores such as Neiman Marcus, Boomingdale's, Dillard's, Nordstorm and Macy's. Additional experience includes category development in denim, eveningwear, lingerie and accessories, as well as creating private label products for volume retailers such as Kohl's, TJX and Walmart.
Ms. Stott launched designsource/la in 2000, a design solution firm dedicated to the independent entrepreneur. Specializing in new product launch, brand turn-around and start-up, the firm promotes Made-In-America manufacturing, female owned business, indigenous design, sustainable products and production methodologies. Projects have included innovative mastectomy products to enhance self-esteem, and tech accessories for Apple Stores.
Technology, custom textiles, print and dye techniques, are essential components to Ms. Stott's professional career, and influence her art practice. Juxtaposing elements of fast and slow fashion, Stott's art examines the contemporary female experience. Immersed in critique of media and culture, and paying homage to feminist artists past and present, the cult of culture and its influence on the female experience is at the core of her work.
Utilizing sculpture, photography and public art, Stott deconstructs the hyper-sexualization of women in visual culture, presenting non-normative views of the female experience. Through use of fashion detritus and appropriated images, her work encourages women to consider their own complicity in normative gender based behaviors, and to reclaim subjectivity in relation to feminisms, beauty, body image, and social structure.
Quote: "Global disruption is opportunity, and the textile complex is not women's work."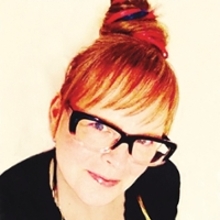 Phone: 618-453-3734
bobette.stott@siu.edu