Main Content
MASTER OF ARCHITECTURE PROGRAM
(On Campus and online formats):
All applications must be processed through SIU Graduate School. First step would be visiting their webpage Apply Now and fulfill the following requirements:
A Bachelor of Science in Architectural Studies or its equivalent. If your degree counted as a pre-professional degree in architecture, it is acceptable for application to this program. Degree names vary, so please do not use the name of your degree alone as the determinant of whether it is acceptable as a pre-professional degree.
A minimum grade point average (GPA) of 2.7 on the last 60 hours of undergraduate work. An unofficial transcript is adequate for application purposes, but an official transcript is required to enroll in the program. 
A portfolio of your work is required containing previous academic work and, if it is the case, working experience products, pointing out clearly your own participation on those products. Follow these guidelines for a portfolio: Up to 8-1/2" x 11" size, up to 25 pages (50 faces), and place your name on the cover page. Please use only a PDF file for your portfolio.  
A statement of intent. Write a one-page brief explaining your career status and objectives. Please include information about how obtaining the professional degree figures into your plans.  
Two letters of recommendation required, three preferred. In the Graduate School's online application, you may provide contact information for your referees. The application system will contact each of them by email and request a letter of recommendation on your behalf. Letters may also be mailed to us. The application system allows you to enter more than two referees., the ones required by default, but would prefer to have three at least.  
The Graduate Record Exam (GRE) is not required by the School of Architecture. If you take the GRE, please have your scores sent to SIUC. The GRE can be used as additional evidence for admission. For example, if your GPA from the last 60 hours of undergraduate work is marginal, a strong GRE score provides evidence of your abilities. 
GRADUATE ASSISTANTSHIPS
The School of Architecture offers graduate assistantships (GAs) each year. We typically offer assistantships in several areas, however most are dedicated to on-campus operations and may not be available to online students. Graduate assistants staff our computer lab, digital fabrication lab, and library. Course assistants (TAs, Teaching Assistants) are also used in teaching support in the School of Architecture.
All TAs work with a professor who is responsible for all primary teaching duties. Research assistants are assigned to work with a faculty member. To indicate interest in service as a GA, include an updated resume indicating your experiences in the area to which you are applying and skills relevant to that position. We always need students with online learning management experience and you must be capable of working unsupervised in standard software like Microsoft Office, AutoCAD, Revit Architecture, and PhotoShop. Please also request consideration as a TA in your statement of intent.  
Since all assistantship work is developed within Carbondale campus, students in the online Master of Architecture format are NOT eligible for graduate assistantships.
A.R.E. CANDIDATES
We welcome applications from those who are currently completing the Architectural Experience Program (AXP, previously the IDP Intern Development Program) or are taking the Architect Registration Exam (ARE). Completion of AXP hours is another item that can be used as evidence of your preparedness for admission to this program. Please note that all students in the program must complete the same set of courses to earn the degree. These courses satisfy the Student Performance Criteria required by the National Architectural Accrediting Board.
INTERNATIONAL STUDENTS
International applicants must included in their application a copy of the photo page of their passport and a Declaration of Finances. Students coming from countries without English as vehicular language will be required to present proof of English proficiency, either TOEFL, IELTS or Duolingo Test. If the candidate has been living in the United States for an extended time or have completed a degree in an English-speaking university or college, the Graduate School may waive the TOEFL requirement.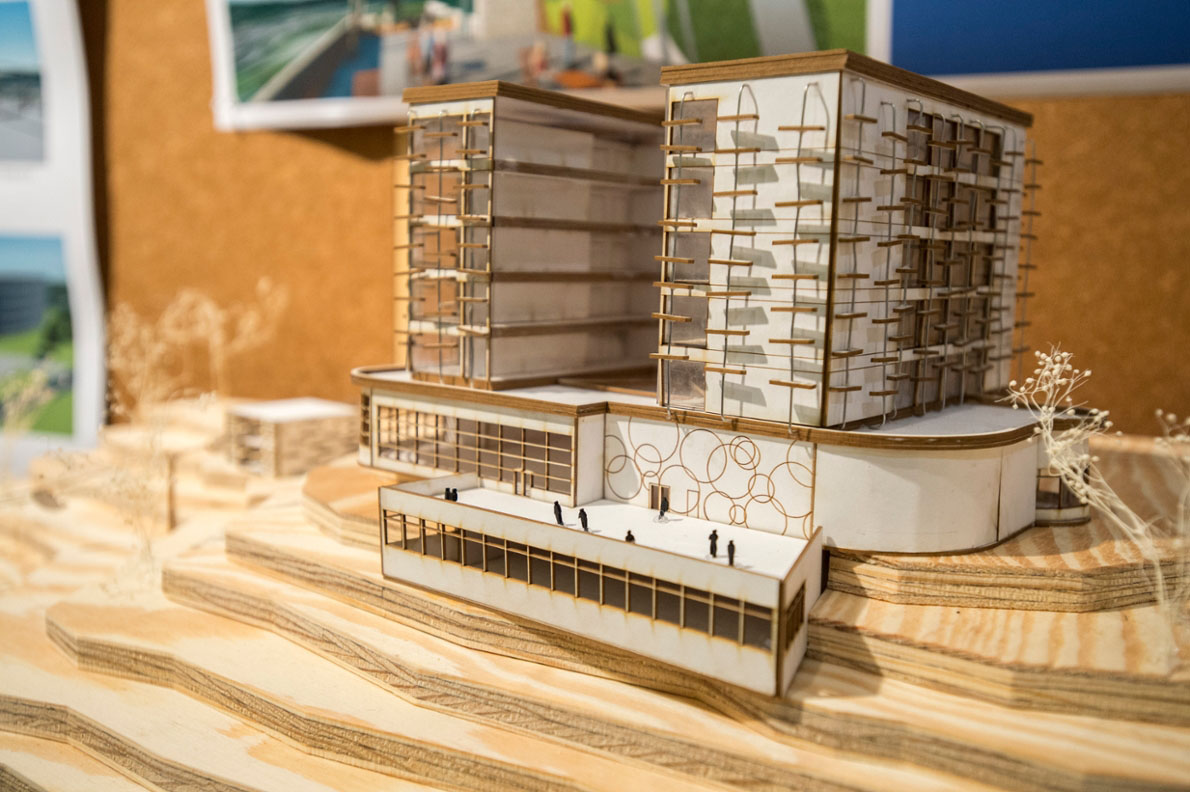 SELECTION CRITERIA
Application materials are reviewed by the Admissions Committee of the School of Architecture. Each submission is evaluated individually and the decisions are based upon the quality of the portfolio, the strength of the academic record, the letters of recommendation, professional experience, and the commitment and clarity expressed in the letter of intent. After an intense period of evaluation, normally from mid-October through mid-April, though online applications keep being reviewed after that, applicants are ranked in order of acceptance due to the average combined scored from the reviewers.
DEADLINE
On Campus format starts every summer semester.
For full consideration for admission to the program, all materials need to arrive by the first day of business in February. Applications received after the first day of February will be considered subject to available space in the program. Note: Letters of recommendation may arrive after the deadline. This deadline is only for the candidate's materials.
ONLINE format starts every fall semester.
For the Online program there is a roll the Admissions Committee still reviews applications on mid-April.
NOTICE OF ADMISSION TO THE PROGRAM
We begin sending admission information by email no later than the first week of March. Applicants will be offered admission to the program, placed on a waitlist for admission, or denied admission. Applicants offered admission are requested to notify the program as quickly as possible of their decision. Please let us know if you plan to attend the program or if you have decided to accept another admission offer. Students are expected to respond to an offer of admission no later than April 15 each year. On that date, applicants who have been offered admission but have not responded are replaced with applicants on the waitlist.