Main Content
Karumbaiah Chappanda

,

Assistant Professor
Karumbaiah received his Bachelor of engineering degree in electronics and communication in 2007 from Visvesvaraya Technological University, India, his Master of Science degree in electrical engineering in 2010 from Michigan Technological University, USA, and his Ph.D. in electrical engineering in 2013 from the University of Utah. He worked as an Assistant Professor from Oct 2013 to Aug 2014 at BITS-Pilani, Pilani campus, India, as a post-doctoral fellow from Sept 2014 to Sept 2018 at KAUST, Saudi Arabia, and as an Assistant Professor from Oct 2018 to Dec 2022 at BITS-Pilani Hyderabad campus, India. He was also a visiting scholar at the Massachusetts Institute of Technology, USA, in Jan 2018.
In Jan 2023, he joined the School of Applied Engineering and Technology at Southern Illinois University Carbondale as an Assistant Professor.
His research interests are in electrochemical and gas sensors, gas plasma electronics, nanomaterials synthesis, nanofabrication, supercapacitors, photoelectrochemical water splitting, flexible electronics, MEMS/NEMS, and harsh environment computing circuits.
His teaching interests are in courses related to micro-electronic circuits, electronic devices, embedded systems, IoT, electronic instrumentation, and MEMS.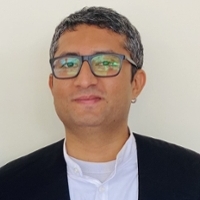 Office: Engineering D115
karum.nanaiah@siu.edu