Main Content
Bachelor of Science in Electrical Engineering Technology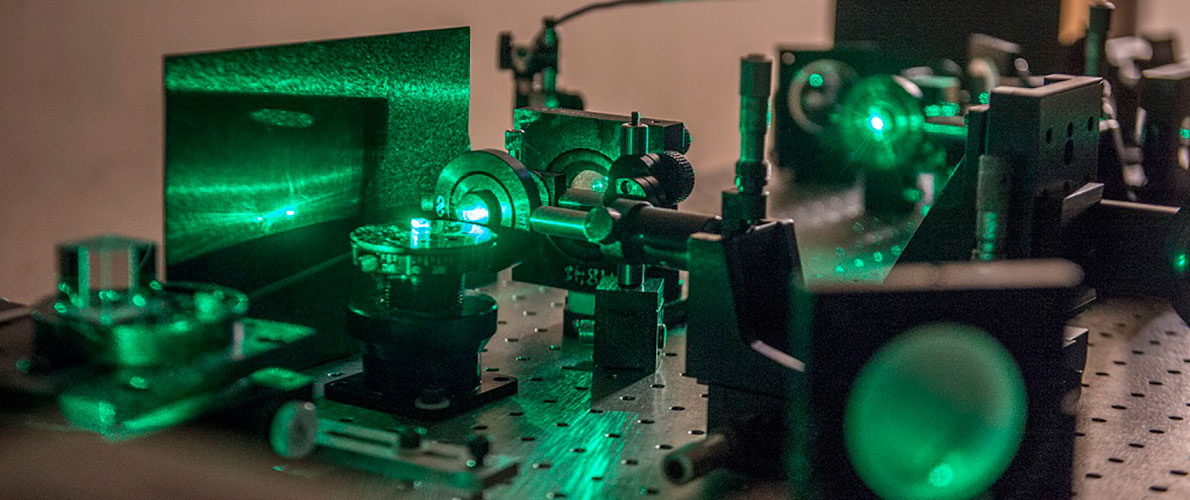 Our Electrical Engineering Technology (EET) program keeps class sizes small, allowing students to establish friendships with each other and be mentored and coached by faculty. EET faculty are all expert teachers with "real world" experience in the major areas of electronics and electrical design. The faculty care if you are learning and provide support for students in the classroom, in the laboratories, and in choosing career paths.
Each course has an associated laboratory where students learn practical skills along with theory that allows them to become instant contributors at any company. The program combines the math skills required in electrical engineering with lab activities and design projects using devices and systems found in the industry today.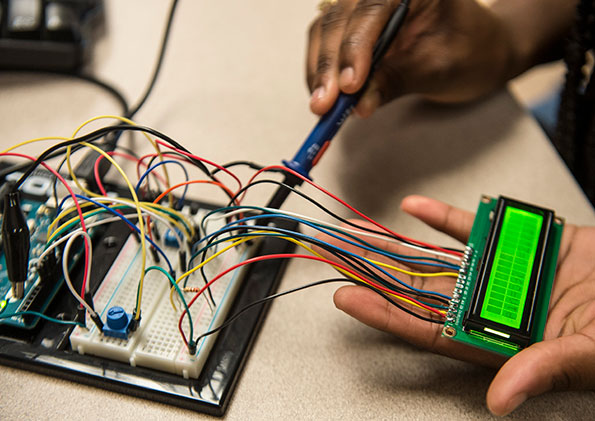 Degree Requirements
The  degree program can be earned by fulfilling the requirements for the Bachelor of Science degree.
Total Degree Requirements:

 

120 credit hours
Foundation Skills:

 

13 credit hours
Disciplinary Studies:

 23

 credit hours
Integrative Studies:

 

3 credit hours
Major Requirements :

 (6)+81

 credit hours

Check out the BS Curricular Guide, which helps you outline what courses you would want to take each semester for all four years. View all related undergraduate courses. | Textbook List
On Campus
Our program is ideal for someone that wants to get into the electrical engineering field and learns best by doing as well as seeing. The program consists of 56 hours of electrical and electronics courses. It also requires the completion of department and university core courses such and math and physics that gives students the foundation necessary to be successful in the technical content.
The technical courses cover topics in electronics/embedded systems, wireless communication, industrial automation with programmable logic controllers, and industrial power with electric motors and generators. This broad background allows students to enter careers in many different industries.
Online
We know you're busy with life's many obligations. The Electrical Engineering Technology curriculum is flexible enough to provide the means for graduates of a two-year associate degree in a related field to obtain a Bachelor of Science degree. Students can then finish their EET degree online at SIU Carbondale in two to three years, taking classes on a part-time basis.
This includes 56 semester hours of college courses covering such subjects as electric circuits, electronics, controls and microcontrollers, and communications, and a capstone design project. Each of our online courses is completed in 16 weeks through the fall, spring, and summer semesters.
Capstone Option
Our Capstone Option puts you in the fast lane to a bachelor's degree in Capstone-approved majors if you already hold an Associate in Applied Science (AAS) degree, Associate in Engineering Science (AES) degree, or equivalent certification. How? We'll abbreviate your University Core Curriculum requirements.
Instead of the 39 credit hour requirement for most students, Capstone students have a 30 credit hour requirement. That means you can earn a bachelor's degree in just 60 additional credit hours.
Laboratories/Facilities
At SIU, we've developed this program focused on the student. Our program operates up-to-date laboratories with student workstations that have all the equipment necessary to test and troubleshoot electronic/electrical projects. Students conduct experiments that re-enforce the theoretical concepts presented in course lectures. They also use the lab stations to develop course projects. Other laboratories provide students with experience in industrial automation systems. Students have access to computer labs that offer all the specialized software tools necessary to design and program electronic/electrical systems.
Learning Living Community (LLC)
Living Learning Communities (LLC) are one of many ways we support the personal development and academic success of our residents. LLCs offer students the chance to live with others who share similar majors or interests. LLCs also give students the opportunity to interact with faculty and staff. Research has linked LLC participation to higher GPAs, increased student engagement, and improved graduation rates.
Freshmen in the College of Engineering, Computing, Technology, and Mathematics (CoECTM) are required to live on campus in the CoECTM-only residence hall. Sophomore CoECTM students are encouraged to live in the Engineering LLC, but it is not required.
Scholarships
At SIU, we understand that scholarships and financial aid provide an opportunity for people to earn an education. Scholarships and various types of financial aid help students have more time to focus on their studies. Research shows that work can take up more than 15 hours per week and becomes an obstacle to academic success.
SIU Carbondale offers a variety of attractive scholarships for entering first-year students, transfer students, and undergraduates.
Internship/Co-op Education
We have arrangements with organizations near our campus that allow you to work in a professional internship for up to 20 hours per week while maintaining your normal academic class schedule. Close contact between employers and the technology faculty helps ensure that you gain maximum benefit from the workplace experience. We also have a co-op program that provides certain qualified students with a full-time professional work opportunity for a semester or more.
Career Opportunities
Graduates hold a wide variety of positions that include engineering design, field engineering, and sales engineering. Others have taken positions in the power industry both as designers and field personnel. Graduates are qualified to provide electrical engineering support in manufacturing in the areas of robotics and automation. We also have graduates working at telecommunications companies and electronics design firms. Companies that have hired our graduates include Boeing, Ameren, Continental Tire, Black & Veach, EMAC Inc, and Aisan Manufacturing.
Student Organizations
Our students are encouraged to get involved outside of the classroom. Within our college, we have registered student organizations that include honor societies, student chapters of professional societies, design teams, and student government. Your involvement will enhance your student experience at SIUC, and provide a foundation for networking with professionals in your field, now and into the future.
The organizations include:
American Society for Quality (now, ASQ Global) is the world's leading membership organization devoted to quality. This professional association advances learning in the areas of quality improvement, exchange knowledge with experts in the area, and to share ideas with industry peers.
Association of Technology, Management, and Applied Engineering (ATMAE) is recognized as the premier professional association responsible for: (1) the promotion of industrial technology in business, industry, education, and government; (2) the accreditation of industrial technology programs in colleges, universities, and technical institutes; and (3) the certification of industrial program graduates and the recognition of their continued professionals.
The society of Automotive Engineering (SAE) was founded in 2010 on campus. The team designs, builds, tests, and races a new mini-Baja car each year. or a national competition.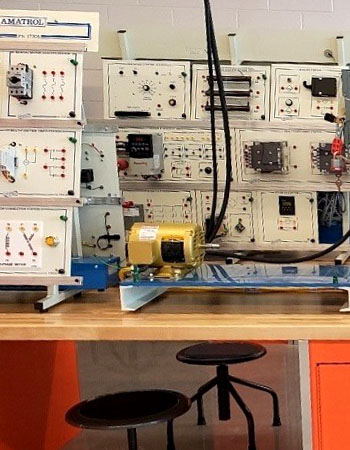 Contact Information
Carl Spezia
EET Program Director

Engineering D110
1230 Lincoln Drive MC 6603
Carbondale, IL 62901
618-453-7839
powerguy@siu.edu
Rita Medina
Academic Advisor
(On-campus Program)
Engineering D104
1230 Lincoln Drive MC 6603
Carbondale, IL 62901
618-453-2261
rita.medina@siu.edu
Marilyn Updike
Program Coordinator
(Online Program)
Engineering D131
1230 Lincoln Drive
Carbondale, IL 62901
618-453-7989
mmupdike@siu.edu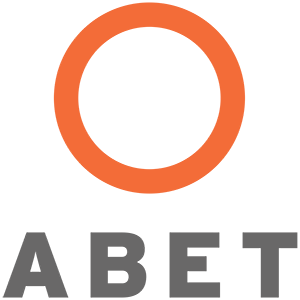 Our Electrical Engineering Technology program is accredited by the Engineering Technology Accreditation Council (ETAC) of ABET (Accreditation Board for Engineering and Technology). The program has existed for more than 50 years.