Main Content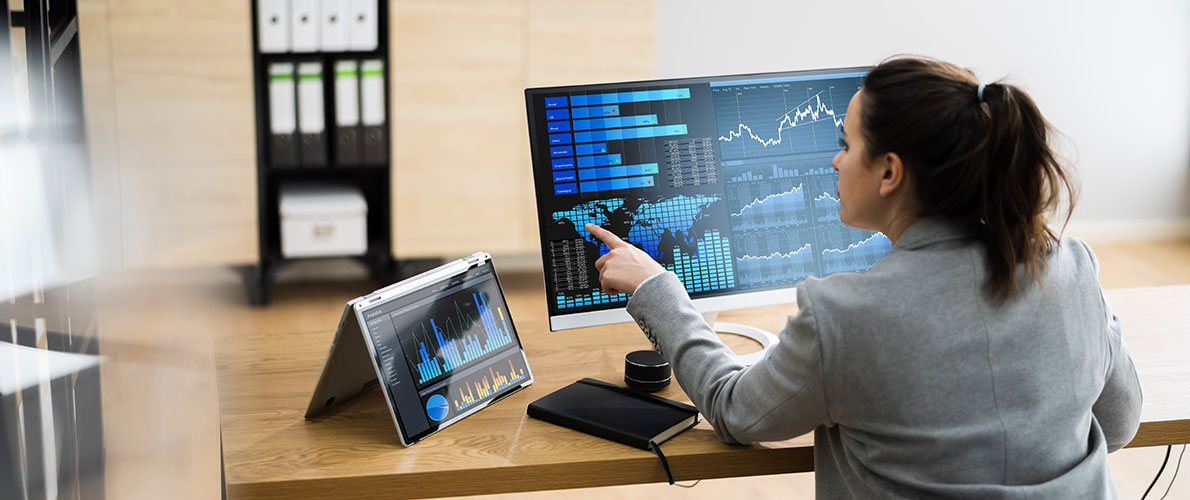 Big data. Data mining. Artificial Intelligence. You know that with every click, every purchase, every "like," you are sharing information with businesses. But what do businesses do with all that information? It depends on the business, of course. But every business needs someone trained in business analytics to use that data and develop successful strategies.
Our undergraduate and graduate programs were developed in coordination with some of the biggest industrial, manufacturing, hospitality, nonprofit, and retail companies in the world. Whether you are a new student just entering college or an experienced executive, we have a program for you. In a world where more and more decisions need to be made using more and more data, the analytics programs will prepare you to find the right questions, find the right data, do the right analysis, and make the right decisions at any level in the organization.
The next generation of successful businesses needs fast-paced and real-time analysis. We knew that to ensure success of our students, we had to create a brand new program that was truly integrated, coherent, fresh and relevant, that steps into the future with AI and machine learning. Our new bachelor's program in business analytics does just that. It allows our graduates to go into the business world, providing informed and strategic decision-making based on numbers - saving time and enhancing an organization from top to bottom.
Students studying business analytics come into the workforce with the knowledge for companies to survive in today's constantly changing business environment. Our graduates have seen how the program provides a detailed look into various opportunities and challenges that companies face on a day-to-day basis.
Analytics and Artificial Intelligence have arrived, comprising a significant and ever-increasing component of today's complex business environment. Businesses have the capability to collect a seemingly unlimited amounts of data, but what does one do with all this data? That's what business analytics is all about – finding critical problems, applying analytical models, and then knowing how to turn volumes of data into usable information to make better business decisions.
---
The MBA Analytics for Managers Concentration will prepare students to take advantage of big data and data analytics to make effective strategic business decisions. Managers who know analytics are needed in virtually every business sector.
 The Analytics for Managers Certificate is for executives, managers, or those on a management track who want to add analytics to their current skillset. This certificate program adds an analytics foundation to what you already know, so you're in a better position to analyze your current and future business problems, use your organization's data scientists as efficiently as possible, and use their analytical models to make better data-based decisions.
The certificate program gives you the analytical tools so you can clearly and effectively work with your data scientists to develop clear, understandable, and relevant models. We add data visualization to add clarity to the models, and give you a foundation in artificial intelligence and database management so you can take advantage of your organization's structured and (more importantly) unstructured text data.