Main Content
M.A. - Media Theory and Research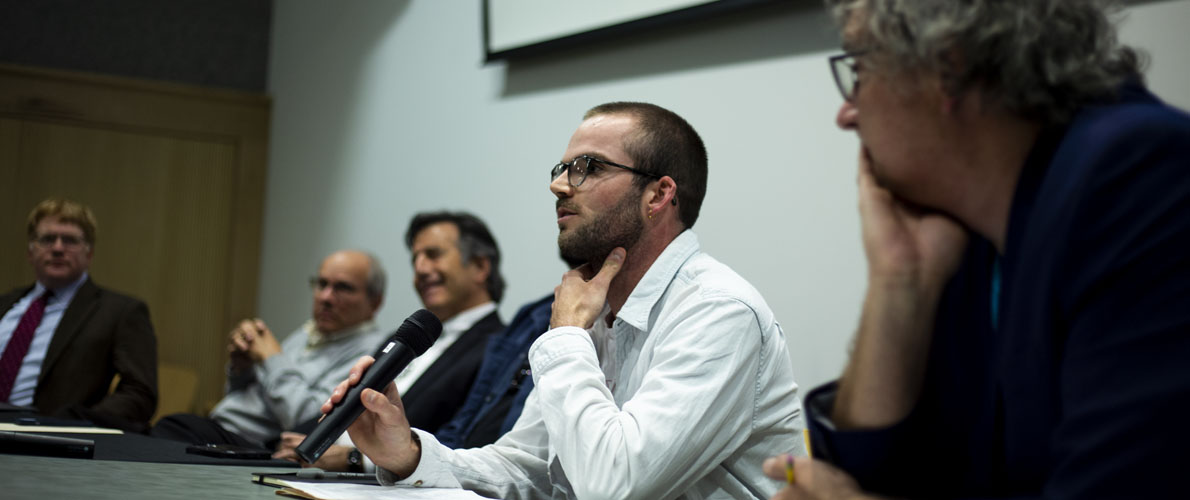 The M.A. degree in Media Theory and Research introduces graduate students to the research traditions in the fields of mass communication and media studies. Students learn theory and research in a college which emphasizes the importance of global communication for understanding the 21st century.
Our program develops teaching, research, and creative work that interrogates the construction, reception, and social impact of mass media. Our work uniquely blends methods from the arts, humanities, and social sciences. Students study historical, theoretical, and critical approaches to mass communication. A comprehensive overview of the program can be found in the M.A. handbook.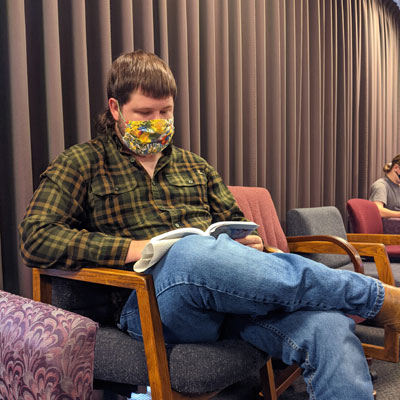 Student Learning Outcomes
Competence in at least one mass communication research method.
Competence in at least one theoretical area of media studies.
Conduct original research as befits a scholar in the field.
Contribute new knowledge to the field via the writing of a thesis.
Demonstrate the ability to integrate and synthesize theoretical perspectives and existing literature in to their own work.
Through writing and oral presentation knowledge of theory and research in the field.
Achieve the capacity to evaluate their work in relation other research in the field and show this in their writing and oral presentations.
Research and Creative Opportunities
Students have many opportunities to engage in research starting day one. SIU's Office of Sponsored Projects Administration offers students research opportunities, while also providing support for grant writing, proposals, and administrative support for special research projects.
Our faculty members regularly engage in global scholarship and creative work, and produce book publications, articles, exhibitions, film screenings and presentations from their own professional endeavors and often look for graduate students to assist in this work. This allows students to gain valuable professional development experience and the opportunity to review past theses by our students.
Students have the opportunity to present their creative endeavors, too. The Visiting Artists Committee and the University Fine Arts Activity Committee present a variety of curated films, photographers, filmmakers, writers, and experimental media artists to campus each year.
Possible Emphasis Areas include:
Advertising & Persuasion
Film Studies
New Media
International Communication
Media Law and Policy
Media Economics
Media Effects
Media History
Political Communication
Program Description
First Year Review
All M.A. students will undergo a faculty review at the end of Year 1. This process allows faculty to deliver formal feedback regarding the student's progress toward their degree that includes performance in courses and scholarly production outside of the classroom.
Graduate Symposium
Students are required to present at the graduate student symposium in Spring Year 2.
Final Project
By the end of the third semester in residence, each M.A. student will be required to form a three member graduate faculty committee. The student must complete the proposal hearing and thesis defense within one year of finishing coursework and three years of beginning the program. The student publicly defends both the thesis proposal and completed thesis in an oral examination with the graduate faculty committee.
---

The Graduate Catalog has the program requirements, preferred electives, and a suggested curriculum outline to shows what courses you should take each semester. View all graduate courses.
---
Accelerated Program
An accelerated entry option to the Ph.D. program is offered in exceptional cases to students who have been admitted to the M.A. program.
To be eligible, the student must:
possess a master's degree;
have qualified for admission to the MCMA Ph.D. program initially;
complete at least nine hours but no more than 18 hours in the M.A. degree;
have a minimum 3.25 GPA in the M.A. program with no incomplete or deferred grades.
The student may petition the Director of Graduate Studies for the accelerated entry option during the semester in which the student will begin taking the ninth hour of graduate courses, but must petition before earning the 18th hour of course work in the M.A. program. If approved, the student will be enrolled in the Ph.D. program the next semester. Up to 18 graduate credits earned in the M.A. program will count toward the Ph.D. degree if the accelerated entry option is approved by the MCMA Graduate Committee.
Once the student is admitted to the Ph.D. program, all requirements of the Ph.D. program apply. Exceptions to any of these rules must be appealed to the MCMA Graduate Committee, which has final authority to approve or reject the petition.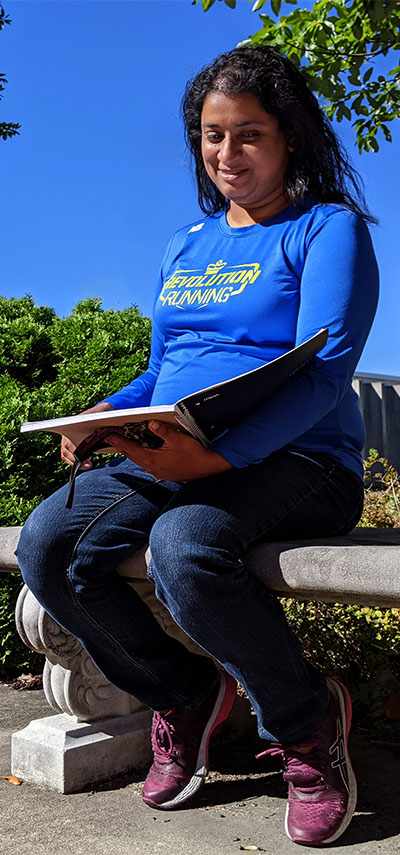 Funding
Many scholarships are available for students entering the SIU Graduate School. We offer program-specific scholarships tailored to our students interests and needs.
Students can also apply for Graduate Assistantships both within the college and across the SIU campus. Graduate Assistantships offer hands-on learning experiences in real work environments, while having professionals offer mentorship and guidance to prepare students for work after graduation.
Facilities
Whether in the classroom or utilizing equipment, you will be able to take full advantage of your talent as you hone your skills. Our facilities include computer labs, audio facilities and soundstages.
Our Equipment Checkout Facility has everything you need to complete your class assignments and projects.
Career Opportunities
The Master of Arts in Media Theory and Research program offers a solid foundation in media research, methods, and theory. Our program prepares students for a variety of careers including research positions in media organizations, opinion research, commentary, and teaching.
The Mass Communications program is a catalyst to doctoral studies for students who wish to advance their academic career or plan to teach in higher education.
Program Admission
All requirements for admission to the Graduate School at Southern Illinois University Carbondale must be met. All applicants must take the Graduate Record Examination (GRE). Other factors will also be considered including professional and academic accomplishments, examples of professional work, awards and honors, graduate examination scores or evidence of scholarship such as research papers.
Generally, applicants must have a grade point average of at least 3.0 (4.0 = A) for their last two years of undergraduate work. Students whose preparation is deemed lacking in certain areas may be required to take undergraduate courses to attain competency. These will not be counted toward the M.S. degree.
Application Deadline: March 1
International Students
International students must take the TOEFL and score at least 550 (paper score) or 80 (Internet score) or have an IELTS score of 6.5 to be admitted.
Contact Information:
Walter Metz,
Director of Graduate Studies
Communications Building 1050i
1100 Lincoln Dr.
Carbondale, IL 62901

wmetz@siu.edu
Deon Thompson
Assistant Director of Graduate Recruitment and Admissions
Student Services Bld. 317
1263 Lincoln Dr.
Carbondale, IL 62901
618-453-4557
deont@siu.edu
Pamela Kelley
Admissions & Records
Student Services Bld. 320
1263 Lincoln Dr.
Carbondale, IL 62901
618-453-4353
pamela.kelley@siu.edu