Main Content
Nutrition and Dietetics Program Goals
Mission Statement and Program Goals
The mission of the SIU Carbondale's Dietetic Internship is to integrate didactic education and supervised practice, to increase a graduate's capacity for inquiry, logical thinking, critical analysis, and leadership so that they have the skills to meet the food and nutritional needs of the diverse communities they serve, and to prepare competent entry-level Registered Dietitian Nutritionists in accordance with the accepted principles of the Accreditation Council for Education in Nutrition and Dietetics (ACEND).
To achieve this mission, the following program goals have been set: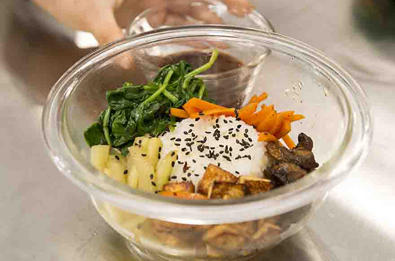 Goals and Objectives Of Dietetic Internship Program
Goal #1:
The SIU DI Program will prepare graduates to be competent entry-level RDNS with the knowledge and skills necessary for success in the emerging roles in diverse settings.
Program Objectives for Goal #1:
At least 80% of interns complete program requirements within 36 months (150% of planned program length).
At least 80% of program graduates take the CDR credentialing exam for dietitian nutritionists within 12 months of program completion.
The program's one-year pass rate (graduates who pass the registration exam within one year of first attempt) on the CDR credentialing exam for dietitian nutritionists is at least 80%.
Goal #2:
The SIU DI Program will prepare graduates with a strong foundation that will allow them to contribute to evolving opportunities in a dynamic profession.
Program Objectives for Goal #2:
Of graduates who seek employment, at least 80% percent are employed in nutrition and dietetics or related fields within 12 months of graduation.
At least 80% of employers who return an employer satisfaction survey will indicate they are satisfied with graduate's preparation as an entry-level dietitian.
At least 80% of graduates who return an alumni survey will indicate the preparation they received was adequate for entry level dietetics-related practice.
ASSESSMENT OF PRIOR LEARNING

The SIU Carbondale MS/DI program recognizes that students may obtain knowledge and skills from their life and work experiences which may be equivalent to college level learning. The purpose of this policy is to provide guidelines to determine the equivalencies of students' prior learning experiences to dietetic internship competency statements. (View Handbook)
EQUITABLE TREATMENT

The SIUC master's degree program in Human Sciences with a concentration in Nutrition and Dietetics, combined with the dietetic internship is dedicated to promoting Inclusive Excellence, a system where everyone has the opportunity to learn and contribute to their highest potential. Through Inclusive Excellence, the program will support needs of interns, provide an inclusive environment, and ensure equitable treatment by all program faculty and preceptors of interns from all backgrounds, including race, ethnicity, national origin, gender/gender identity, sexual orientation, religion, disability, size, socioeconomic status, and age.
Note: outcome data for program objectives will be available to current and prospective students, as well as the public, upon written request to the program director via the contact information provided above.