Main Content
In order to become a Registered Dietitian Nutritionist (RDN), candidates must complete 1200 hours of supervised practice in a program accredited by the Accreditation Council for Education in Nutrition and Dietetics (ACEND). The Dietetic Internship Program at SIU satisfies this internship requirement to prepare candidates for the credentialing exam required to become an RDN.
The Dietetic Internship program is a 24-month experience offered in conjunction with a Master of Science degree in Human Sciences. The program prepares students to be competent entry-level registered dietitian nutritionists with the knowledge and skills necessary for success in the emerging roles in diverse settings.  The program will prepare students with a strong foundation that will allow them to contribute to evolving opportunities in a dynamic profession.   Students will develop skills in the areas of medical nutrition therapy, community nutrition, and food service management. Students benefit from a low student to faculty ratio in the graduate program.
Supervised practice experiences provided during internship rotations hold more meaning for you than didactic learning alone. Rotations complement graduate coursework and prepare you for roles as competent, entry-level dietitians. Within the 1200 hours of supervised practice hours, you will assess food and nutrition needs for individuals and communities. You will also be involved with planning, organizing, managing, directing, coordinating, and evaluating nutritional components of health services for individuals and communities.
Dietetic Internship Director
Brenda Green, MS, RDN, LDN, CLC
Quigley Hall, Rm 209 – MC 4310
Email: bgreen@siu.edu
P: 618-453-7513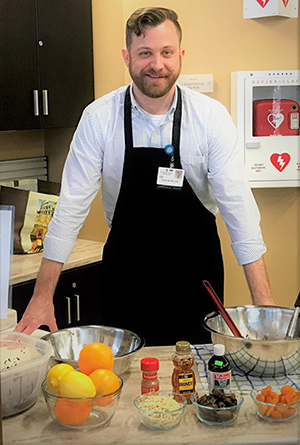 "The Combined Master's Program at SIU was the catalyst I needed to work in the field. The core classes and internship placement prepared me to do the job I love." -Micah Pierce

The SIU Dietetic Internship requires the follow:
A personal statement that answers the following questions:

Why do you want to enter the dietetics profession?
What is your greatest strength and your biggest area of improvement?
In your opinion, what is the role of the dietitian in the healthcare team?
What is the future of the dietetics profession?
Where do you see your career in 10 years and how can our program help you meet your goal(s)? Note: personal statement has a 1,000 word limit)

Grades: Approximately a 3.0 GPA or better.
Work Experience: Paid and/or volunteer.
Extracurricular Activities: College/University clubs, sports, and community service projects. Leadership roles.
3 Letters of Recommendation: 1 required from your DPD Director, 1 from another instructor or professor, and 1 from work/vol

unteer supervisor.
Rotation Schedule
The supervised practice includes three rotations. These rotations provide knowledge and training in nutrition assessment, health promotion and disease prevention in professional settings including clinics, health departments, hospitals, schools and long-term care facilities.
6 weeks in food service management
12 weeks in clinical/medical nutrition therapy
10 weeks in community
2 weeks of intern's choice* 
*The intern's choice can consist of: oncology, leadership, out patience, bariatrics, pediatric, nutrition support, and sports nutrition.
Notification
Applicants are provided with their personal matching results from D&D Digital Systems. Notification will be either the student was or was not matched with one program. If you are matched, you must finalize acceptance to that program within 24 hours. If you are not matched with a program, with your prior permission, your name can be given to all internship directors who have not filled their classes.
The matching/selection process is not perfect but it is the fairest system. Nevertheless, well-qualified capable students may not receive a match with a dietetic internship on their initial application. Students who are not recipients of an appointment are encouraged to reapply for the next appointment date if they so desire. In many cases, re-application indicates your sincere desire to become a Registered Dietitian, and it is looked at as strength rather than a weakness.
Who's hiring our graduates?
Barnes-Jewish Hospital (St. Louis)
St. Francis (Peoria)
Loyola University Chicago
Rush-Presbyterian-St. Luke's (Chicago)
University of Indiana Hospital
Southern Illinois Healthcare
Vanderbilt Medical Center
VA Health Care
State and Federal Government
SIU and other universities 
Local Health Departments
Mercy Hospital
Bariatrics Facilities
Pediatrics Hospitals
Renal Facilities
Pharmaceutical companies
and many others