Main Content
Diagnostic Medical Sonography (Ultrasound) Specialization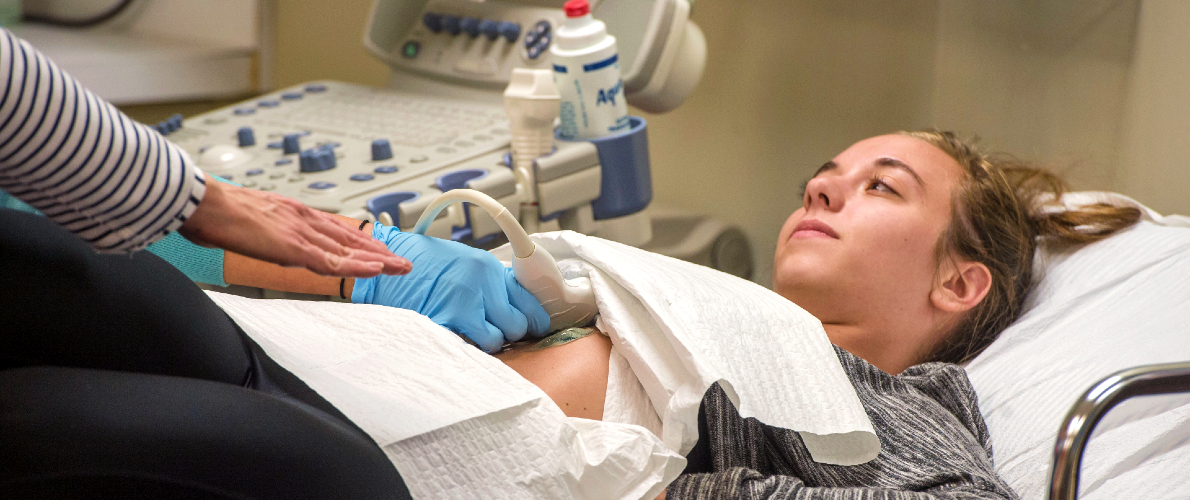 Diagnostic medical sonography, also called ultrasound, is the science of using high-frequency sound waves to produce dynamic visual images of organs, tissues, or blood flow within the human body. Sonographers work in hospitals, clinics, private physician offices, and other medical facilities performing examinations under the direction of a physician.
After completing two years of general studies and HCM classes, students are on campus for lectures and scan labs to include abdomen, small parts, OB/GYN, and vascular ultrasound. Small classes of up to 20 students and an ultrasound scan lab that includes a scan simulator and multiple phantoms offer students a personalized experience. The senior year is completed at clinical internships. Students are eligible to take the Abdomen and OB/GYN credentialing examinations and become certified sonographers prior to graduation. The Diagnostic Medical Sonography program at SIU is Illinois' only accredited bachelor's degree program in general sonography.
Degree Requirements
Students graduate with a bachelor's degree in Radiologic Science- Sonography and a minor in Health Care Management (HCM) by fulfilling the requirements for the Bachelor of Science degree.
Total Degree Requirements: 120 credit hours
University Core Curriculum: 39 credit hours
Sonography Requirements: 51 credit hours
Health Care Management Requirements: 18 credit hours
Additional Requirements: 12 credit hours
---

Check out the undergraduate Curricular Guide (PDF), which helps outline what courses you would want to take each semester for all four years. View the handbook, all related undergraduate courses and Master Syllabus
Health Care Management Minor
Graduates of the Diagnostic Medical Sonography program also earn a minor in Health Care Management. Students become familiar with medical terminology, health care policy and ethics, U.S. healthcare systems, information management, and legal aspects.
This credential is a beneficial addition to a bachelor's degree in Sonography, enhancing its value and related employment opportunities.
Student Organizations
Sonography students are encouraged to join registered student organization The Scanning Salukis. This is a great way to experience and learn more about sonography, build friendships, network with peers and underclassmen, and create rapport between faculty and students.
SIU has more than 300 student organizations you can join.
Careers
Graduates of our program enjoy a high job placement rate in a variety of careers. Possibilities include working as a diagnostic medical sonographer, researcher using ultrasound technology, sales representative or application specialist for an ultrasound equipment manufacturer, a traveling sonographer, teaching sonography, and administrative roles within a hospital or imaging department.
Program Starting Points
Freshman (Year 1): Applicants are ranked according to high school GPAs. Entering at the freshman level offers the best chance of acceptance. As a competitive program, admission to the university does not guarantee admission into the Sonography program. A maximum of 20 slots are available.
Sophomore (Year 2): Year 2 slots depend on availability. To be considered for a Year 2 slot, applicants must have completed or be currently in progress of the following courses:
Anatomy & Physiology
Physics
College Algebra or higher
Accreditation
This specialization is accredited by the following:
Commission on Accreditation of Allied Health Education Programs (CAAHEP)
9355 - 113th St. N, #7709
Seminole, FL 33775
(727) 210-2350
www.caahep.org
Joint Review Committee on Education in Diagnostic Medical Sonography (JRCDMS)
6021 University Boulevard
Suite 500, Ellicott City, MD 21043
443-973-3251
www.jrcdms.org
SIU Institutional Accreditation
Commission on Institutions of Higher Education of the North Central Association of Colleges and Schools
230 South LaSalle Street, Suite 7-500
Chicago, Illinois 60604-1411
800-621-7440 / 312-263-0456
www.hlcommission.org
Mission, Goals, and Objectives:
Program Mission
Program Objectives
Program Goals
Additional Program Cost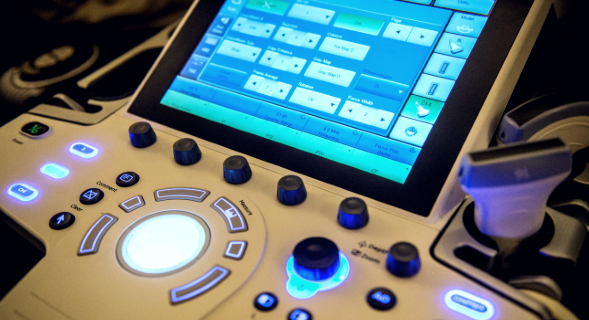 Contact Information
Shannon Anderson,
Program Director
ASA Room 14A
1365 Douglas Dr.
Carbondale, IL 62901
Phone: 618-453-2375
sanderson@siu.edu

Lisa Bickel,
Clinical Coordinator
ASA Room 11D
1365 Douglas Dr.
Carbondale, IL 62901
Phone: 618-453-8884
lisa.bickel@siu.edu
Michael Rowell,
Academic Advisor
ASA Room 15E
1365 Douglas Dr.
Carbondale, IL  62901
Phone: 618-453-8869
michael.rowell@siu.edu