Main Content
Master of Science in Counseling and Rehabilitation Education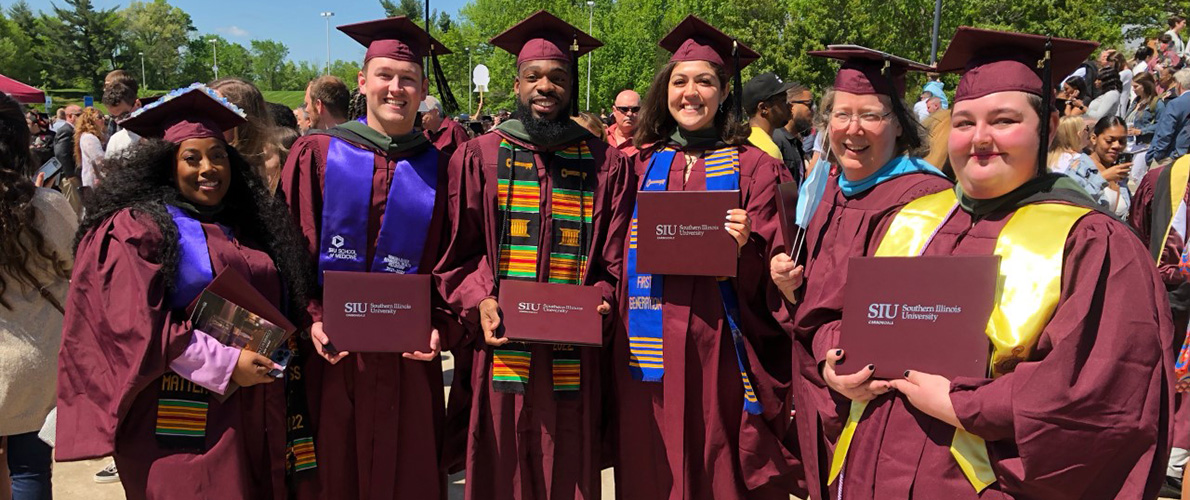 Graduates of our Master of Science in Clinical Rehabilitation and Mental Health Counseling program emerge with a top-notch clinical education and have a thorough understanding of the cultural, socioeconomic, and societal challenges many people face.
This degree program is comprehensive and includes coursework, research, service, and enrichment opportunities in the community. An understanding that mental health and physical health are interrelated is a key concept and students gain experience working with people with disabilities and physical challenges. Our program prepares students to qualify for licensing requirements in most states and upon graduation, students are prepared to enter the workforce in private, federal, and state agencies, as well as non-profits.


Degree Requirements | Student Manual | Degree Map
Concentrations
Clinical Mental Health Counseling
This comprehensive concentration prepares students for mental health counseling careers aiding people of all ages in a variety of settings. Through research, service, and community involvement, graduates emerge enriched. Students hone their counseling skills and delve deeper into the challenges of the people they help. Students in this concentration prepare for careers with agencies, hospitals, schools, employee assistance programs, correctional facilities, treatment centers, and private practice. Our diverse faculty supports students and offers a variety of engaging opportunities to help them reach their professional goals.
Clinical Rehabilitation Counseling
This concentration focuses on learning to counsel and aid individuals with physical and/or psychological disabilities. Professionals in this field assist people in learning to overcome or work around their challenges to live the highest quality of life possible. Clinical rehabilitation counselors often work with other care providers, such as social workers, physical therapists, and physicians to facilitate courses of care and empowerment plans. This type of counseling focuses on the physical, psychological, and spiritual aspects of an individual as well as contributing relationships.
Clinical Experience
Students have opportunities to work with many university and community-based counseling centers that assist a wide variety of clients based upon type of disability, age, mental and physical health needs, and education and vocational needs.
We partner with the Recreational Therapy Department and interested students can volunteer at Touch of Nature, a local environmental center that works with veterans and those with mental health challenges. Our faculty assists in arranging internships and volunteer opportunities in the local community.
Licensure and Certification
The CARE program prepares students to apply for the following:
Detailed information related to the educational requirements for licensure and certification is available at professionallicensure.siu.edu
Substance Use Disorders and Behavioral Addictions Certificate
Students interested in obtaining a certificate to become a substance use disorders and behavioral addictions counselor (CADC) must complete a series of five courses (15 credits) and an approved 500-hour internship. Upon completion, students will be eligible to sit for the CADC exam in Illinois. In addition to exploring types of addictions and substance use disorders, students learn how to identify these disorders and addictions, prevent relapses, intervene, and aid people through recovery.
Minor
A minor in Counseling and Rehabilitation Education affords students beneficial credentials and can enhance related majors. Students gain an understanding of different types of disorders and addictions, and how to treat, intervene, prevent relapse, and navigate recovery.
A minimum of 15 credit hours (taken at SIU) are required and consist of four specific CARE courses and a related elective. Students in this minor program must maintain a minimum of a 2.0 GPA.
Applying
Students seeking admission to the M.S. in Counseling and Rehabilitation Education degree program must apply to and meet requirements for admission to the Graduate School and be approved by the CARE program faculty. The following are required to be considered for admission:
Successful admission to the Graduate School.
A written essay including a statement of professional goals.
Three letters of recommendation, preferably including one from a recent instructor.
A GPA of 2.75
Faculty Interview
This program requires a nonrefundable $65 application fee that must be submitted with the application for Admissions to the Graduate School. Specific information about admissions processes, fees and paperwork may be obtained by contacting the CARE Admissions Coordinator via the School of Health Sciences, health.sciences@siu.edu; or the SIU Graduate School at gradschl@siu.edu.