Main Content
Health Professions Programs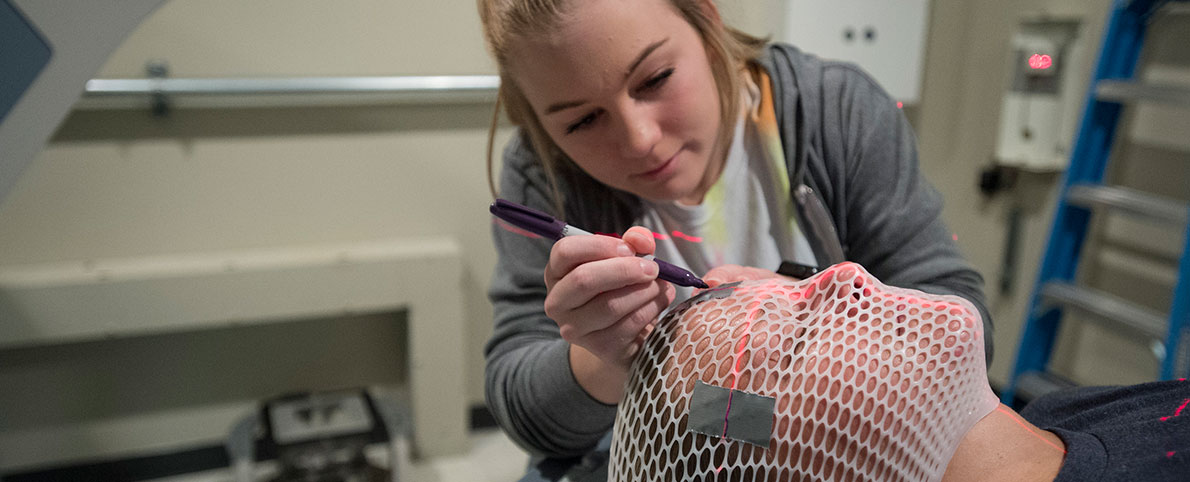 If you are interested in helping others through a health profession, SIU has a range of options for you. We have everything from recreation professions and rehabilitation to radiologic sciences to mortuary science and funeral services.
The inability to communicate fluently can be frustrating. As a speech pathologist, helping children and adults overcome communication issues can open their world. You will learn to assess, treat, research, and prevent cognitive and physical communication disorders of all types.
Looking to make a positive impact? Consider a challenging yet rewarding career as a counselor. SIU's M.S. degree prepares future clinical mental health counselors and clinical rehabilitation counselors. Our program also focuses on the relationship between physical and psychological health.
A healthy mouth is imperative for a healthy life. As a dental hygienist, you will not only provide care and treatment, you will educate, counsel, and perform diagnostics and screenings. Our bachelor's degree prepares students for careers in research, teaching, and clinical practice.
Seeking, providing, and receiving medical care can be stressful. A health administrator works behind the scenes to provide a positive experience for patients, health care providers, guests, and staff. Our master's program focuses on planning, staffing, budgeting, and department policy-making and organization for health care facilities.
Career opportunities for health care managers are abundant and growing. You will learn how to assure the overall needs of health care facilities are met and they operate smoothly. Our program covers a wide range of courses, including policy, payment systems, and law.
Reduce health care costs, streamline care, and protect patient privacy with a career in this essential industry. Learn to collect, analyze, and process patient information, apply medical concepts, and health information technology. Data analytic skills are critical in the digital health care transformation.
In this highly technical and rewarding field, critically ill patients benefit from your expertise. Using imaging and scans, the medical dosimetrist designs a specific plan of treatment for each patient including appropriate dosage and angles of radiation therapy.
This compassionate profession touches everyone at some point. If you love working with people and have a flair for the arts and sciences, look no further. Our well-rounded degree program covers anatomy, business, cosmetology, pathology, and more.
Nurses make a difference in the lives of people every day. Learn to administer care and treatment with empathy, perform health assessments, and educate. In addition to hospitals, find careers at resorts, schools, law offices, and cruise ships.
Dietitians are instrumental in bridging the gap between diet, health and disease. Students in both the undergraduate Didactic Program in Dietetics and Master of Science program in food and nutrition, are immersed in the study of nutrition issues, food systems and body functions during coursework in this ACEND accredited program.
Performing daily tasks is something many take for granted. Occupational therapists help patients with injuries, illnesses, and disabilities learn to accomplish daily activities. Therapists formulate individualized plans utilizing adaptive techniques, strengthening, and modifications to recover, develop, and improve skills.
If you enjoy people and are personable and motivational, consider a career as a physical therapist assistant. Under the direction of a physical therapist, you will teach and guide patients through exercises for mobility, strength, and coordination, and administer treatments.
If the topic of public health, as it relates to community welfare and management of public health facilities, is of interest to you, this program provides the foundation for a career in this always evolving field. The public health program offers both undergraduate and graduate degrees.
When diagnosing a disease or injury, accuracy is critical. A radiologic sciences professional assists physicians by using sophisticated medical imaging technology such as x-rays, sound waves, and other imaging to ensure accurate diagnoses and effective treatment plans.
Recreation is serious business with a healthy employment outlook. People generally are taking wellness and quality of life more seriously.  We offer both undergraduate and graduate degrees and have three areas of interest in both programs: Recreation Administration, Outdoor Recreation Resource Management, Therapeutic Recreation.
Below you can find the program you are interested in and the degrees, minors, and online options offered for that program. You will see some programs have specializations (for undergraduate programs)/ concentrations (for graduate programs) listed. These are focused areas of study.