Main Content
Professional Advisory Board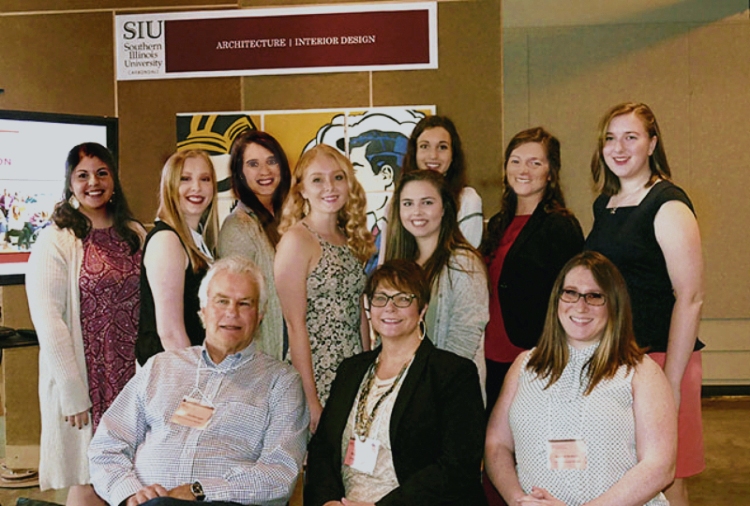 Mark Stenftenagel, Mickey Warriner and Jessica Iskrzycki (front row, L–R) socialize after meeting with the undergraduate-led Interior Design Network Executive Board.
Trusted Guidance.
Lasting Connections.

The Professional Advisory Board is currently comprised of nine members engaged in various design careers. These are loyal alumni and experienced practitioners, committed to academic excellence and industry relevance within the Interior Design program here at SIU Carbondale.
The advisory board convenes annually to formally review student work and to discuss emerging trends within the discipline. Meanwhile, the individual members generously lend their unique knowledge, talents and support throughout the year when it's needed—providing valued mentorship and guidance to our students, faculty and program administrators.
Current Advisory Board Members
Name
Title
Professional Affiliation
Barbara Burnette
System Director Facilities Planning,
Maintenance and Construction Management
Aspirus
Wausau, WI
Joe Connell
Principal
Perkins & Will
Chicago, IL
Leah Hofferkamp
DIrector, Interior Design
BSA LifeStructures
St. Louis, MO
Jessica Iskrzycki
Project Manager
Charles Schwab Corporate Real Estate
Chicago, IL
Jacqui Lee
Construction Manager &
Store Planning
Caleres
St. Louis, MO
Jeff Liggert
Partner
Falk Ligget Design, LLC
Portage, IN
Mark Stenftenagel
CEO & Principal
Whitney Architects
Chicago, IL
Mickey Warriner
Federal Interior Design Manager
Jacobs
St. Louis, MO
Kay Wulf
Interior Designer
(Independent)
Chicago, IL