Main Content
Dong Han

,

Associate Professor
School of Journalism and Advertising
Dr. Han comes to SIU from Eastern New Mexico University, where he worked as an Assistant Professor. Before entering graduate school at the University of Illinois, he received a Bachelor of Law at Beijing University in 1997. His research has appeared in several journals, including Television and New Media, and Global Media and Communication.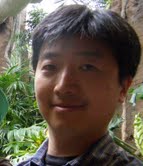 Office: COMM 1226
Email: donghan@siu.edu
Education
Ph.D., University of Illinois
Interests
Intellectual property and media, Media history and political economy, International communication, and Communication technology.