Main Content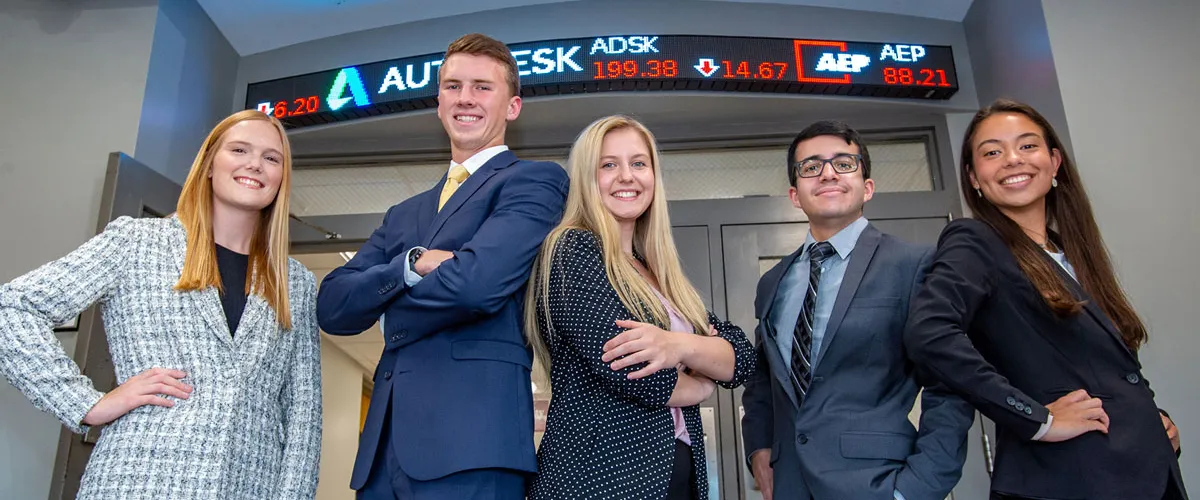 Accounting is a major which will provide you with unlimited opportunities. Accountants are respected business professionals who are recognized as trusted advisors and whose opinions matter in making business decisions. With an accounting degree, you will have multiple career paths available to choose from including public, private, nonprofit, and governmental.
You can focus on tax, auditing, advisory, or many other areas. You will have vast opportunities to determine which path is best for you. The skills you develop are in great demand and our graduates are highly sought after and are prepared for the job on day one. Accounting is the language of business and with an accounting degree you will succeed in whatever career path you choose.


Our accounting program is separately accredited by the AACSB and holds full membership in the Federation of Schools of Accountancy, a distinction which is held by less than 1% of all accounting programs nationwide. In our programs, you can earn your accounting degree from a high-quality program dedicated to the improvement and advancement of the accounting profession.
Our accounting program is about creating the next generation of leaders. Our curriculum provides students with the theory behind and the practice of financial accounting, auditing, managerial accounting, and taxation. We prepare our students to enter any accounting career path, including public accounting, corporate accounting, not-for-profit accounting, and other business consulting and finance roles. And, we offer our students the option to complete our program either in-person or online.
In addition to the classroom, we offer our students the opportunity to develop their professional skills through many activities and events. Our goal is to prepare our students to become accounting professionals.
Our Master of Accountancy program provides you with the ability to specialize while offering a pathway to the CPA. Our M.Acc. students deepen their knowledge in their specialty area while continuing to develop their professional skills. And, our M.Acc. program is offered both in-person and fully online. We offer specializations in Auditing and Accounting Information Systems or Taxation in our residential program and a general concentration online.
Students have the opportunity to get a jumpstart on the M.Acc. program by enrolling in M.Acc. courses during their final undergraduate semester
Our doctoral program prepares you to conduct research and to teach in all areas of accounting at an academic institution. We offer a Ph.D. in Business Administration with an Accounting concentration which can be completed in three years of coursework and developing a dissertation which makes an original contribution to knowledge in your chosen area. Students in our program will be taught and mentored by internationally recognized scholars.
Our Business Administration program is fully accredited by AACSB International and offers a concentration in accounting, finance, management, or marketing.