Main Content
Jaemin Park

,

Assistant Professor, Lighting and Sound Design
Jaemin is a native of South Korea and began his career as a lighting designer in 2005 by designing the opera "La Traviata" in South Korea. He has designed more than 100 productions in various genres such as plays, musicals, operas, and dances.
While he was in South Korea, he worked as a full-time lighting supervisor and resident designer in the national theatre with about 1,200 seats in Daegu, South Korea. His unique background in studying vocal music during his undergraduate courses has given him a keen ear for analyzing and expressing music. He has directed opera and loves musical works.

He was the most popular lighting designer in Cleveland for the 2021-2022 season. He had nominated for Best Lighting Design of A Play Or Musical at the 2022 Broadway World Cleveland Awards for all seven shows I designed during that season and I had the honor of being a winner for one of them.

In addition, he won the 2023 Barbizon Lighting Company Jonathan Resnick Lighting Design Award. The United States Institute of Theatre Technology (USITT) for Young Designers Managers and Technicians in the Performing Arts presents the annual award.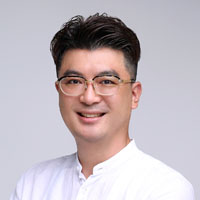 jaemin.park@siu.edu
Office: Comm Bldg 1033
Website