Main Content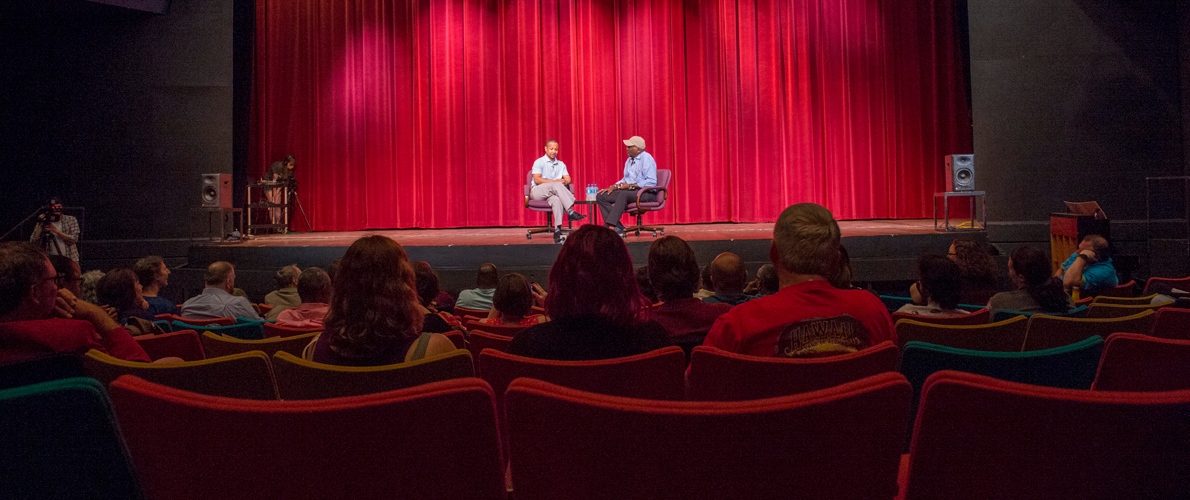 Our theater students enjoy access to multiple venues and studios to hone their talents and skills in a variety of settings. The experience our majors gain from working in multiple auditoriums and labs with different styles of equipment and design features is paramount in developing adaptability and confidence in their chosen field of specialization. Our integrated classroom environments include:
Theater Program Venues & Dynamic Classrooms:
McLeod Theater
Christian H. Moe Laboratory Theater
The Costume Shop
The Scene Shop
Rehearsal Studio
Drafting Studio
Computer Design Lab
Lighting Lab
Shared Venues:
Shryock Auditorium

a 1500 seat proscenium theater. The primary venue for School of Music events it is also home to joint productions with the School of Theater and Dance.

Marion Kleineau Theater

an intimate 110 seat proscenium space. Theater student frequently appear in performances produced by the School of Communication Studies here.

Altgeld 116

a rehearsal studio with a sprung dance floor, home the Theater and Music Theater performance classes and production rehearsals.
McLeod Theater
The McLeod Theater is a 521-seat, fully equipped proscenium theater with grand drape. The stage is 60 feet wide and 40 feet deep. Side stages with sliding doors embrace the right and left sides of the proscenium and can be opened to expand the panorama for an additional 20 feet on each side. An arc shaped apron, 15 feet deep and 40 feet at its widest point, is equipped with an automatic hydraulic system and can be lowered to create an orchestra pit or a variable height playing level. A counterweight balance and rigging system allows scenery to fly into the 50 foot fly gallery. The theater was renovated in 2000 with new professional rigging and a computerized lighting system. A new audio system with a back-of-the-house sound booth was added in 2004. The inventory of lighting instruments, including intelligent lights, was updated in 2009. LED lighting instruments were added to the inventory in 2014, funded by the Student Green Fee.
A new fire curtain was also installed in 2009, allowing the apron and front of the house to be separated from the stage area, expanding the use of the facility for workshops and classes. Seating is tiered. The lower level is Continental style. The upper level is tri-sectioned. McLeoad Theater is used for larger productions during the academic calendar and is the home for McLeod Summer Playhouse, the professional summer theater company at SIU. The space is also used for program meetings, special performances, public speakers and events.
It was named after Archibald McLeod, former Theater chairman and the Theater program founder.
Christian H. Moe Laboratory Theater
The Christian H. Moe Theater is an intimate and flexible 1400 square foot black box space with a ceiling stretching 19 feet and seating for approximately 100 spectators. The Moe Theater provides an ever-changing venue for creating exciting theater. In addition to performances, the space may also be used for special workshops, classes and demonstrations, seminars and symposiums, play readings, receptions, parties and student projects. The facilities are available for rental on a limited basis.
In addition to the two impressive performance spaces, facilities also include a rehearsal studio, fully equipped scene and costume studios, a drafting studio and computer design and lighting labs.
Rental Information
For information on facility rental please contact the Faculty Technical Director, Thomas Fagerholm via email at tfagerholm@siu.edu.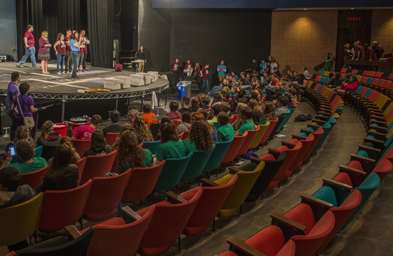 Support
Financial contributions in support of the McLeod Theater and the Christian H. Moe Theater may be made through the SIU Foundation at 618-453-4900.