Main Content
Women, Gender and Sexuality Studies Certificate and Minor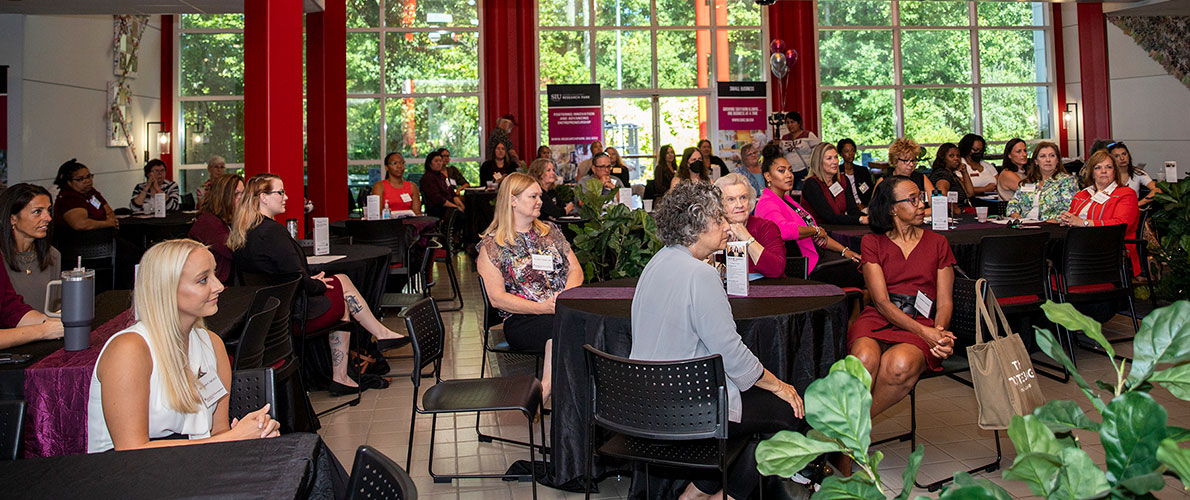 Women, Gender and Sexuality Studies (WGSS), an interdisciplinary and transnational field of inquiry, explores the intersections of gender, sex, sexuality, race, class, nation and ability, and how these intersecting identities influence individual's experiences, achievements and positions in society.  Our WGSS program offers a critical cultural approach in its examination of all genders and sexualities through lenses of contemporary feminist and queer theories. You can add an undergraduate minor to any program or get a graduate certificate.
Scholarship in Women, Gender and Sexuality Studies is found in virtually every branch of academics, including humanities, social sciences, sciences, education and the arts.  WGSS is a strong interdisciplinary program where students from every academic college on the SIU campus can pursue their interests in issues regarding women, gender, sexuality and/or feminisms, and also discover the relevance of Women, Gender and Sexuality Studies to their own lives and their own fields of study.
Women, Gender and Sexuality Studies is an appropriate minor for many undergraduate majors as well as for students planning graduate or professional studies. For example, people's orientation toward their work may be affected by an historical understanding of the significance of gender roles from various disciplinary perspectives, or a multicultural approach to viewing the ways women and sexual minorities have been treated by the courts, the health care professions, the educational system, employment, religion, literature, or the arts.

Because it is interdisciplinary, inclusive of race, and sexuality scholarship, the Women, Gender and Sexuality Studies minor should reflect academic work in the arts and humanities, the natural and social sciences, and race and cross-cultural issues.
Minor Requirements
Students must plan their minors with the Women Gender and Sexuality Studies coordinator in order to develop a coherent program that meets their individual interests.  The minor requires 18 semester hours of credit, 15 of which must be in Women, Gender and Sexuality Studies courses, while the remaining 3 hours may be selected from a special interest or related course; for example, Africana Studies.  The minor must include 201, 300 and 495.  Elective courses should be taken from at least two different cross-listing departments.
Graduate Certificate Requirements
18 hours of coursework and independent study are required for the Graduate Certificate in Women, Gender & Sexuality Studies. The certificate is flexible and allows students to work both within and outside of their particular graduate degree program.
The student must currently be enrolled in a Graduate Degree Program at SIU, or have a Bachelor's degree and admitted as an Unclassified Graduate. The student MUST complete the required worksheet and confer with the Women Gender and Sexuality Studies Coordinator to register for the Certificate Program.
Please fill out the Graduate Certificate Admission form and return to the WGSS Coordinator via email at wgss-coordinator@siu.edu.
The purpose of the Graduate Certificate in Women, Gender and Sexuality Studies is to meet the demand for formal recognition of graduate level credentials in WGSS, and to enhance and broaden the perspective of graduate students from various related fields.
The following graduate programs work closely as partners with WGSS Graduate Certificates:
Scholarships
Marlene Rotbart Matten Academic Excellence in Health Research Award (graduate)
Elizabeth Eames Women's Studies Graduate Scholarship
Deb Morrow Graduate Scholarship
Outside Scholarship Opportunities
STEPS (Student Training & Education in Public Service) provides 20 scholarship opportunities for members of the LGBTQIA+ community, along with a set of valuable resources, advocacy groups and professional networks to further help students throughout their college and career journey.
Other Scholarship and Career Resources