Main Content
Germany: Examine economic and political human rights in Europe within a social policy framework.
An SIU education extends beyond geographical borders and you can find Salukis the world over, enhancing their knowledge and helping others. We are proud of the collaboration with other social policy experts that this course provides. Our study abroad program offers you the opportunity to gain a cross-cultural perspective into human rights.
We have offered this course for over 25 years, and students from all over the United States and other countries participate.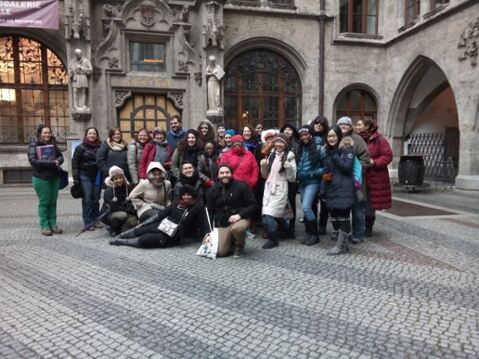 Germany Field Visits

Field visits and course instruction illustrate human rights principles as they apply to social policies. The location of Munich adds essential context to the study of human rights, as contemporary human rights arose from the history in this part of the world. This course includes visits to the former concentration camp of Dachau and the war crimes courtroom in Nuremberg. The course addresses issues relating to the Holocaust and how the world can prevent a repeat of such atrocities. Participants have the opportunity to explore human rights that apply to their own experiences, as well as historical events. The German experience with overcoming the horrific consequences of systemic discrimination against others will be analyzed as a possible learning tool for other countries.
This course examines human rights within a social policy framework from a European perspective. The European focus is on Germany although discussion about Europe generally is also an important part of the course. The course provides students with an introduction to economic and political human rights in Europe, with a United States perspective integrated into the instruction.
Past field visits include:
Why Study Abroad
Students in the course visit social service agencies in the various countries and learn how those countries address social problems, experiencing different concepts of social work policy and practices. This exposure to a unique cultural and learning experience provides students with knowledge that could not have been adequately conveyed through classroom teaching and insight into universal values held by others.
Issues of concern to students from many disciplines are becoming increasingly international in scope. Refugees, child abuse and neglect, inadequate health care, lack of water, and drug addiction are all contemporary challenges within a social welfare environment. Learning how other countries address these issues can provide valuable information in confronting the same or similar problems at home.
A well-structured study abroad course can promote creative thinking and foster intercultural collaboration in education, research, and practice. At a minimum, it can provide knowledge about policies and practices in other countries that would be difficult to obtain in the traditional classroom environment at home. Through this type of educational experience students can develop a better understanding of social policies in other countries and how the United States could benefit from that knowledge.
There's no better way to truly learn about something than to experience it "hands on." Haley Elson, SIU Alum.
Learn more about how the Global Seminar in Germany was life-changing for one SIU student.
This course typically takes place twice each year for eight days, in January and in late May/early June. Current Cost $1,490.
Summer Intersession ~ May 23 to June 2, 2023
Undergraduate: SOCW 478A-800
Graduate: SOCW 578A-800
Take the next steps and learn everything you need to know about our study abroad program, such as information regarding passports, financial aid, medical coverage, orientation and more.
For a full description of the program, check out the Global Seminar: Human Rights & Social Work within the European Framework program page. 
Contact Information
Elisabeth Reichert
Professor
250 Pulliam Hall
475 Clocktower Drive
Carbondale, Illinois 62901
Ph: 618-453-2243
reichert@siu.edu
Salukis Abroad Scholarship
Apply for a Salukis Abroad Scholarship to help fund this global seminar.
Other Financial Assistance
Contact the Financial Aid Office for other forms of financial assitance. If you have been in the military, you might be eligible for extra assistance with the course through SIU Veteran Services.