Main Content
Lesley Shawler

,

Assistant Professor
Behavior Analysis and Therapy (On-campus)
Dr. Lesley Shawler is a Board Certified Behavior Analyst (BCBA) and earned her Ph.D. from the Institute of Applied Behavior Studies - Endicott College in 2019 under the advisement of Dr. Caio Miguel. She completed a two year postdoctoral fellowship at Kennedy Krieger Institute and Johns Hopkins University School of Medicine in the Neurobehavioral Unit and Clinical Outcomes department. Dr. Shawler has experience working with individuals with developmental disabilities and mental health diagnoses across the lifespan and in a myriad of settings. Her main expertise includes the assessment and treatment of challenging behavior and teaching verbal behavior to individuals with Autism and other neurodevelopmental disabilities.
Dr. Shawler's primary clinical and research interests include the functional analysis and treatment of severe challenging behavior exhibited by individuals with and without developmental disabilities. Specifically, she is most interested in improving methods to program and test for treatment generalization, as well as identifying the variables that impact caregiver adherence to treatment. Dr. Shawler also is passionate about exploring conceptual questions within experimental and applied behavior analysis, verbal behavior, and single-case research methodology, and is interested in systematically examining these areas within her research.
Dr. Shawler regularly presents at local, national, and international conferences on her work. She has published in several peer-reviewed journals such as the Journal of Applied Behavior Analysis, Journal of the Experimental Analysis of Behavior, American Journal of Intellectual and Developmental Disabilities, Behavior Analysis in Practice, Behavioral Interventions, and The Analysis of Verbal Behavior. She has also served as a guest reviewer and guest Associate Editor for peer-reviewed journals.
Representative Publications
For a list of Dr. Shawler's publications, please visit her ResearchGate page.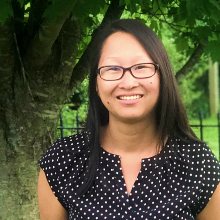 Office: Life Sciences II, 275B
Phone: 618-536-2302
lesley.shawler@siu.edu
Curriculum Vitae
Educational History
Ph.D., Endicott College
Postdoctoral Fellowship, Kennedy Krieger Institute and Johns Hopkins University School of Medicine