Main Content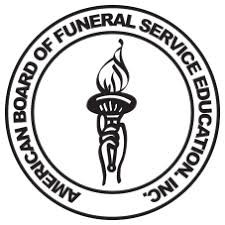 The Bachelor's degree program in Mortuary Science and Funeral Service is the ONLY one of its kind offered at a public university within the state of Illinois. Our program is accredited by the American Board of Funeral Service Education. Students graduating from our program meet the Illinois Department of Professional Regulation licensing requirements. SIU's Mortuary Science and Funeral Service degree is recognized by other state boards as well.
American Board of Funeral Service Education (ABFSE), 992 Mantua Pike, Suite 108, Woodbury Heights, NJ 08097 (816) 233-3747. Web: abfse.org
Our Mission Statement
The Mortuary Science and Funeral Service program mission is to challenge students to achieve academic and professional excellence; prepare students for entry level positions in the funeral service profession; provide quality instruction in keeping with current trends in the profession; cultivate and maintain excellent relations with local, state, and national organizations; enhance university and community relations; and work toward the continued improvement of the Mortuary Science and Funeral Service program as an ongoing process.
Aims:
The Mortuary Science program has, as its central aim, recognition of the importance of funeral service personnel as:
members of a human services profession
members of the community in which they serve
participants in the relationship between bereaved families and those engaged in the funeral service profession
professionals knowledgeable of, and compliant with, federal, state, provincial/territorial, and local regulatory guidelines in the geographic area where they practice
professionals sensitive to the responsibility for public health, safety, and welfare in caring for human remains.
In addition, the Mortuary Science program is devoted to:
Providing a quality learning environment by maintaining high program standards and offering opportunities to network with individuals and entities within the profession.
Offering students a challenging and rewarding academic curriculum to enable them to fulfill their potential in theory, practice and management of funeral service.
Security and retaining faculty with experience in education and the funeral service field, and providing them with opportunities to attend local, state, and national meetings; encouraging their membership and participation in funeral service organizations; assuring they add to the body of knowledge of funeral service literature.
Contributing to the University's growth by developing, maintaining and participating in community activities.
Assessing our degree requirements and the allocation of credit hours to ensure they are consistent and conform with the accreditation requirements of the American Board of Funeral Service Education.
Objectives:
To enlarge the background and knowledge of students about the funeral service profession
To educate students in every phase of funeral service and to help enable them to develop
proficiency and skills necessary for the profession
To educate students concerning the responsibilities of the funeral service profession to the community at large
To emphasize high standards of ethical conduct
To provide a curriculum at the post- secondary level of instruction
To encourage student and faculty research in the field of funeral service
A quality baccalaureate level mortuary science and funeral service education for our students
An advanced educational pathway for associate degree or certificate graduates of mortuary science and funeral service programs
Advanced techniques, skills and knowledge for our students in areas benefiting the funeral service profession
The necessary skills that enable our graduates to plan, implement, and manage/own a funeral establishment
The professional services skills required by any state licensing board
Good preparation so that upon graduation our students may participate in the development and implementation of solutions in the health care area
The basic knowledge regarding compliance of laws at the state and federal levels, as well as with those of other regulatory agencies pertaining to funeral service practices, public health, and the profession
Solid preparation so our future funeral directors/embalmers have a strong background in social sciences, humanities, natural sciences, communication and mortuary sciences and can ethically apply this knowledge in all situations
The sought-after funeral directors/embalmers to meet the employment needs of Southern Illinois, the state of Illinois and the country
Encouragement for our students to continue their professional growth through continuing education and research following graduation
NBE Pass Rates
"National Board Examination pass rates, graduation rates (beginning 2015), and employment rates for this and other ABFSE-accredited programs are available at www.abfse.org. To request a printed copy of this program's rates, go to ASA 116 1365 Douglas Drive Carbondale, IL 62901 or by e-mail at splash@siu.edu, or by telephone (618) 453-5698."
Program Information - Southern Illinois
| | | | | | | | | |
| --- | --- | --- | --- | --- | --- | --- | --- | --- |
| Year | Total enrolled | # of New Students | # of Grads | Timely Grad* | Graduation rate | Did not finish** | Overall % Employed | Employed In FS |
| 2020 | 76 | 21 | 18 | 18/18 | 95% | 1 | 89% | 83% |
| 2019 | 114 | 25 | 18 | 18/18 | 94% | 2 | 100% | 89% |
| 2018 | 107 | 27 | 17 | 1/17 | 89% | 5 | 82% | 65% |
*Timely graduation = complete program in 1½ times designated program length.
**Left before completing the program; did not finish.
Table explains the national pass rates for students at Southern Illinois University Mortuary Science and Funeral Service program.
National Board Statistics - Southern Illinois

| Single Year | School Pass Rate | National Pass Rate | Single Year | School Pass Rate | National Pass Rate |
| --- | --- | --- | --- | --- | --- |
| 2020 Arts | 36% | 73% | 2020 Sciences | 62% | 64% |
| 2019 Arts | 67% | 72% | 2019 Sciences | 33% | 63% |
| 2018 Arts | 75% | 77% | 2018 Sciences | 77% | 71% |