Main Content
Doctor of Philosophy in Education in Curriculum and Instruction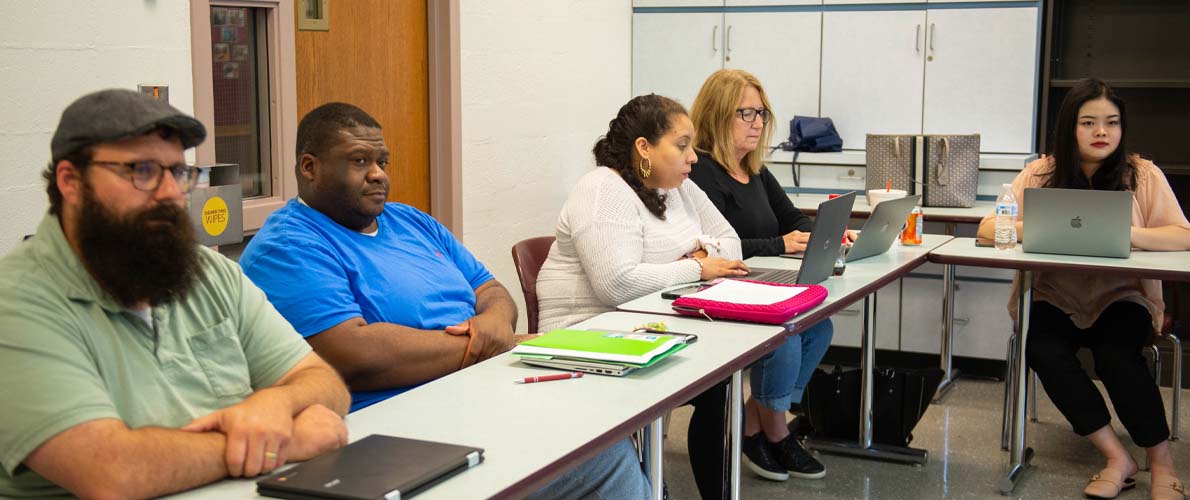 Our Ph.D. in Education with a focus on Curriculum and Instruction propels careers and takes education to the highest level. This truly riveting degree program covers learning and education theory and philosophy, advanced research theory, and curriculum theory and principles. This doctoral program helps develop the professional skills, knowledge, and leadership qualities required for advanced educators.
Through in-depth study and research, students perceive methods of integrating new technologies, interpreting and applying data, and they discover the impact of ethical and cultural considerations. Graduates are prepared for leading positions in general and specialized fields in the public and private sectors. Many go on to careers in higher education, government, with foreign ministries of education, in business, human service fields, and industry.
Degree Requirements
The Ph.D. in Education with a concentration in Curriculum and Instruction has requirements from both the School of Education and Curriculum and Instruction. A minimum of 72 hours beyond the master's degree is required.

Students must select from the following program areas of emphasis:
Curriculum, instruction, and assessment
Human development and family studies
Language, literacies, and culture
STEM education
Teacher leadership
The Curriculum and Instruction requirements include:
9 core credit hours
24 credit hours in the selected program area
9 credit hours in research methods
24 semester hours of dissertation.
Students must earn a minimum of a C and a grade point average of 3.0 or higher for professional core courses.

Check out the Graduate Catalog, for further program requirements as well as a list of all courses offered within the program
Research Requirement
The Ph.D. in Education with a concentration in Curriculum and Instruction is a research-focused degree. Requirements include the successful completion of
3 credit hours of Intro to Qualitative Research (EAHE 540)
3 credit hours of Intro to Quantitative Research in Education (EDUC 520).
3 credit hours of additional research methods (research tool)
Students with previous coursework in introductory research methods may petition to take higher-level research methodology coursework instead. A list of approved research tool courses is available in the Ph.D.
Admissions Requirements
Interested students must complete the application for Graduate School and an application for admission to Curriculum and Instruction and the related program area. Students are evaluated based on prior graduate work, grade point average, standardized test scores (Graduate Record Examination of no more than five years old), research ability, work experience, and letters of recommendation.
International Admissions
If you are an international student looking to apply for the PhD program in Education with a focus on Curriculum and Instruction, it is important to be aware of the admission requirements. Firstly, you must demonstrate proficiency in the English language by providing a TOEFL test score. This test must not be more than two years old and a minimum score of 500 is required. However, the selection committee may consider exceptional cases where an applicant demonstrates remarkable aptitude or potential.
Secondly, the selection committee recommends admission of a particular student only if there is a faculty member who is qualified to direct the dissertation and agrees to serve as chair of the student's doctoral committee. This ensures that every student is provided with the necessary academic guidance and mentorship throughout their program. Therefore, it is important to carefully consider potential faculty members and their research interests when applying to the program. By meeting these admission requirements, you will be well on your way to pursuing a successful and rewarding career in education.